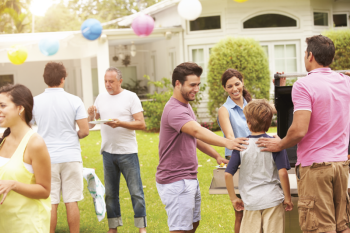 By Ron Lazzer
You know what has been great about this summer so far? We haven't had too many of those blistering hot days where you sweat the second you lift a finger. It's been relatively cool which makes it a great time for some summer backyard fun. Here are a few ideas to try out this year.
Gatherings. Make sure you have a nice level surface somewhere in your backyard. This could be a deck, a patio or even a flat piece of lawn. Children will run and play anywhere but adults tend to like more balanced surfaces to relax on. There should be some seating too so your guests can really unwind. Place some chairs around a table and a few chairs gathered together off to the side so guests can break off into different groups and mingle with each other.
Bring the music outside. Set up a portable radio with a CD or MP3 player to help your guests get into a lighter mood. You can also set up permanent outdoor speakers around your yard. Imagine your guests strolling around your home and hearing different music in different areas: Beethoven among the Begonias or Taylor Swift around the Hydrangeas. You an even use your patio as a dance floor.
Movies. Set up an outdoor theatre to screen films. Rent or buy a projector and a screen and you can watch movies, TV shows, or sporting events in the comfort of your backyard. You can even share some of those ridiculously funny Instagram videos. Keep the kids busy by letting them watch a movie while the adults talk about more serious things - like who brought the best bottle of wine.
Many of these media devices have come down in price drastically. Check out some online retailers and you'll find the biggest challenge will be installing it rather than paying for it.
Games. Everyone loves games so make sure there a plenty to go around. Pin the Tail on the Donkey, Charades, Simon Says, board games. You name it and it can be played outside. Be creative come up with your own games too. Once the weather finally warms up water gun fights, balloon fights, and pool games (if you're lucky enough to have a pool) will keep everyone entertained for hours.
Food. Finally, no party is complete without food and drink. Barbecues are my favourite part of summer. Grill some steaks or sausages and chicken wings. Be careful though. The smell of cooking meat will attract many of your neighbours, but that's the whole point. The more the merrier. In fact, invite them before you start cooking and hopefully they'll bring some treats along with them.
The only thing stopping you from a great summer of socializing and parties is your imagination. So invite your friends over, ask your family to stop by, and introduce them all to your neighbours. Nothing beats the time you spend with those you care about. Life is too short not to enjoy it and the summer is even shorter so make the most of it.
Ron Lazzer is the owner of Bellevue Landscaping. If you have any questions or comments please email them to Ron@BellevueLandscaping.ca.