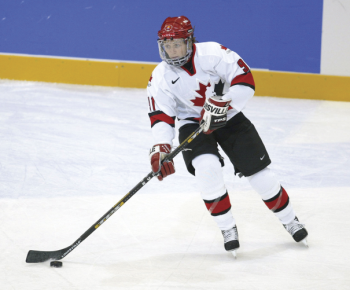 Emery's Own Canadian Hockey Hero
By Ryan Ehrenworth
Very few people personify the word champion better than Geraldine Heaney. A pioneer of the Women's hockey program in Canada, Heaney's humble beginnings as an enthusiastic child on the streets of Emery Village helped pave the way for her grand success on the world stage of hockey. A winner of seven World Championship gold medals and an Olympic gold and silver, Heaney also adds inductions to Order of Hockey in Canada, the Canadian Sports Hall of Fame and the Hockey Hall of Fame to her illustrious resume.
Heaney's career was rich with as many successes as it was with trial and tribulations. As a young female hockey player in a sport dominated by men, she did not have access to much of the female specific hockey infrastructure which exists today. Much of her career was spent overcoming the gender barrier.
"My career really began by playing ball hockey in the streets with the boys. Of course as a girl, I had to play goalie. That was fine with me though. I just wanted to play," she said.
Many of Heaney's early experiences with hockey were playing with the boys. Few teams existed which would allow her to test her skills against other elite female hockey players. The young athlete could only dream of leagues such as the NWHL and CWHL.
From a young age, Heaney frequented the halls of local rinks Habitant Arena and Baycrest Arena, watching the game, studying the game, and playing any chance she got. A multi-sport athlete, Heaney's determination and athletic prowess led her to catch the eye of the Toronto Aeros, a team she would join at the age of 13 – and one which gave her one of her first chances to play on a women's team. Often forced to play with women several years older, Heaney developed an elite offensive ability drawing comparisons to Bobby Orr.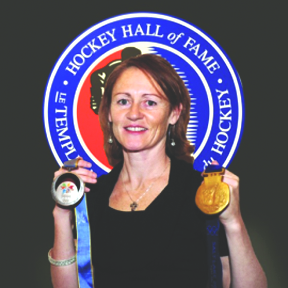 She would remain loyal to the Aeros organization, playing nearly 2,000 games and 18 seasons with the club. With the Aeros she would win six provincial championships and the award for Most Valuable Defensemen three times. As she notes: "Playing with the Toronto Aeros was very important for my career. They were one of the first organizations to take the women's game seriously and grow the sport."
At the National level, Heaney and her teammates would set the standard for Canadian women excellence in hockey. Joining Team Canada for the inaugural world championship in 1990, Heaney's overtime winning goal against the United States to take home the gold medal will go down in history as one of Hockey Canada's greatest moments. She would go on to win seven straight gold medals at the Worlds. In 1998, at Nagano, when women's hockey debuted in the Olympics for the first time, Heaney was chosen to represent Canada and captured a silver medal in the process. Her swan song on the international stage came in 2002 when Canada captured double-gold, ending the countries' 50 year gold medal drought.
In 2011, Heaney became one of four female hockey players ever inducted in the Hockey Hall of Fame.
Despite a career rich with accolades, Heaney continues to remain humble and give back to the game which gave her so much. Heaney still spends much of her time at the rink, coaching her daughters local peewee hockey team as well as her sons triple A team.
When asked what impact growing up in Emery Village made on her career as a hockey player, Heaney lamented, "The community was important.
"In those days kids played on the street all the time. There weren't too many girls programs for hockey. Just the chance to play road hockey with the boys is where I learned to love the game."