By Edith George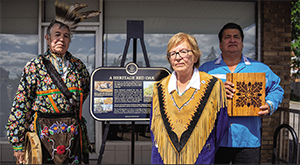 I have advocated for the red oak of Coral Gables for more than 15 years. It is now a recognized heritage tree, and no single tree has been designated heritage under the Ontario Heritage Act in the City of Toronto since we were amalgamated in 1999. This red oak would be the first to have this honour. An application was brought to the Heritage Preservation Services on July 4, 2007.www.toronto.ca/OfficialTree
Earlier this year, I was contacted by Jennifer LaFontaine, Indigenous Affairs Consultant for the City's Indigenous Affairs Office. She informed me that the City had decided to create a new official tree emblem, utilizing the likeness of birch, maple, oak, and pine, which were the four tree species chosen.
Emery's red oak was chosen to represent the oak species. The plan had a First Nation representative videotaped for each selected tree. That First Nations' individual explained why the tree species is essential to First Nations. I recommended my friend, former Chief Carolyn King CM. She is now the Voice of the oak tree and can be seen on the City of Toronto Tree Emblem Contest , # TorontoOfficialTree
Or phone 311 and tell them that you wish to vote for a chosen tree species for the City's tree emblem.
On Wednesday, March 9, 2022, Carolyn King, Jennifer LaFontaine, a city news videographer, a city protocol office representative, and myself met in the backyard of 76 Coral Gable Drive, the site of the red oak.
Former Chief Carolyn King CM became the voice of the red oak and told the tree's story. She also read a moving poem written by Chief R. Stacey LaForme of the Mississaugas of the Credit First Nation. This poem is heard on the oak video tab link.
On Thursday, April 21, 2022, the City launched the Tree Emblem campaign. You can use the contest link (www.toronto.ca/OfficialTree ) to visit the site to see videos of the various trees selected for this campaign.
I hope that everyone votes for what they consider the best tree to be chosen for the official emblem.
I voted for the oak tree.
(Edith George is a long time resident of Emery and a frequent contributor to the Voice).