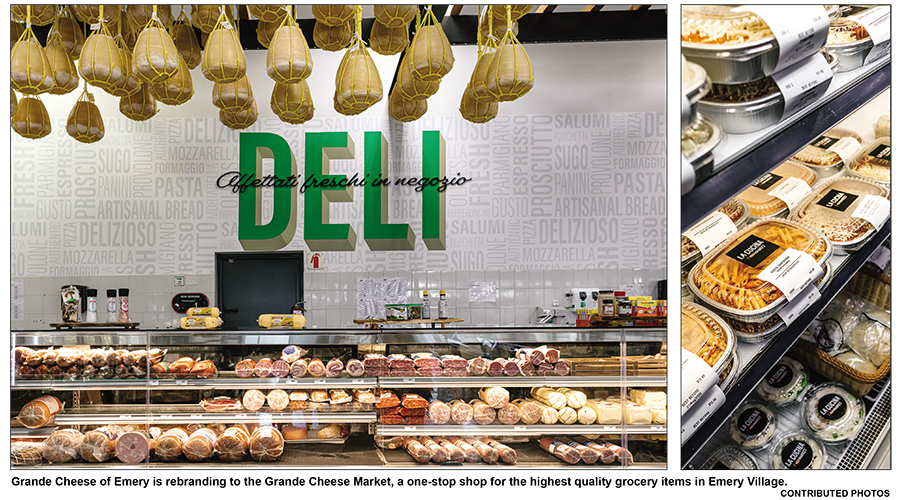 By Sean Delaney
Grande Cheese is rebranding, so to speak, and for a good reason.
They have always been so much more than just the highest quality cheese purveyor, but now, they are making sure customers know they are a one-stop shop for many of their food needs including a place to stop in and get prepared food on the go.
They are now the Grande Cheese Market.
"We've launched a prepared food program," said owner Lennie Contardi. "We've always had in-store pizza, but now we've included a whole array of prepared entrees and a hot table. And we will be expanding into pastries and cakes very soon."
Grande Cheese Market, in fact, is a destination for almost all of your food needs, outside of fresh produce and meats.
"We offer many prepared foods, specialty items, frozen sides, and fresh sides," Contardi said. "We have a huge array of cheeses, including many Italian varieties and imports from French to Spanish to South American cheese. We try to have an extensive array of cheese from around the world. And as to deli meats, we're providing the same variety and quality."
The Market is like a charcuterie board ready to go. If you're into charcuterie, which is very popular, Grande Cheese Market is proud to be the place to shop, Contardi said. They have every item you could need, including some you may not even think of. And there is no item you won't find, as they feature a variety of oils and vinegars, pickled items, vegetables under oil, and olives.
"We know and have what you need," Contardi said.
Are bread and pasta going to be on your menu soon? You're going to find such a variety in these areas that you may struggle to decide. But that's where a visit to the Grande Cheese Market, and the expertise available from its staff, will take your menu to the next level.
Should you have an occasion where you need a special box or board created for you, Grande Cheese Market will also take care of that. Including a third-party delivery system that can see them brought right to your door.
"We prepare charcuterie boards or boxes with pre-cut cheese and salamis as a gift for special occasions, and all of this can be done online."
The rebranding is also exciting for Contardi, as it allows the company to share the story of its history and lineage and position itself as a unique concept within the food shopping world.
But don't think they aren't watching out for their customer's pocketbooks as well. As Contardi shared, they revel in offering great deals as well.
"We have a fair number of non-perishables, so we like to compliment the stores with some really aggressive pricing in these. Sure, we're not going to match the pricing of some of the major discount stores, but you're going to see pricing that is very close to that, very aggressive sales, in a store with the knowledge and quality surpassing those other options. You'll have items you won't find in those mainstream stores and the types of deals you do."
Grande Cheese is located at 181 Milvan Dr, Toronto. You can reach the store at (416) 740-8883
Or find them online at:
www.grandecheese.ca