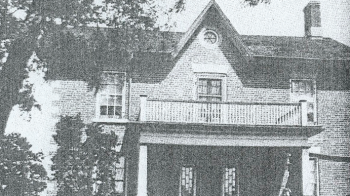 Dr. Laurence Hutchman, has written a new book of poetry entitled, "The House of Shifting Time." One of the poems in his book was inspired by a visit in 2016 with the McClure family to a location where their father resided in a farmhouse near the Humber River, prior to 1954.
Their house and several other buildings were destroyed by Hurricane Hazel in October of 1954 and stood very close to where Islay Court and Archway Crescent stand today. For several weeks after the hurricane, their entire property was immersed under water. Luckily, the family had moved to Milton, Ontario just two months prior.
On that day of the visit in 2016, Hutchman found an original tiny fragment of what appeared to be from the McClure farmhouse.
He wrote the following poem, A Piece of Red Transom Glass, in his new book of poems to mark the event. To purchase your own copy of Dr. Hutchman's new book, "The House of Shifting Time," simply send an email to: info@emeryvillagevoice.ca and request the details.
A Piece of Red Transom Glass
by Dr. Laurence Hutchman
Tim and I move toward the Humber River,
passing by a large upturned grey stone
with a twisted hoop
from the broken foundation of the McClure House.
A smaller hidden path is leading me to
the shiny fragments of broken black glass
arranged in a circle of fire
in a strange symmetry
taken from the house destroyed one night
by tyrannical waters of Hurricane Hazel.
It ripped through woods,
tearing apart the farmhouse, the barn
and everything on its site,
changing the course of the river, forever.
I pick up one piece trying to imagine
where it would be placed in the house.
Then, I discover a jagged square, red transom glass.
In the light it becomes garnet,
holding the secrets of the past.