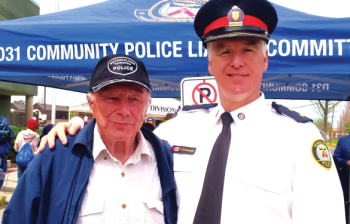 By Tim Lambrinos
In 1957, Emery's law enforcement detachment was known as Metropolitan Toronto's 19 division. North York had four divisional stations overseen by police chief Riseborough when John C. Chisholm was selected to unite 13 separate police services in the newly created Metropolitan Toronto.
This community's first station originally ran out of Crang Plaza. It was the shopping centre on the north-west side of Jane and Wilson that was built in 1952 by apple farmer Jethro Crang. It was also the community's first modern commercial centre. Today it is known as the Sheridan Mall.
When the plaza was first built it leased space to the local police, Arlington Pet Shop, Park Seaford - fish & chips, U.S. grocery giant Grand Union (later becoming Steinberg's), a bank, a hardware store, the Crang Auditorium and the Crang Plaza Bowl (bowling alley) that were opposite the police station. Inspector David Dinan was 19 Division's commander, and lived within walking distance of the plaza in an apartment on the south side of Wilson, just east of Jane Street.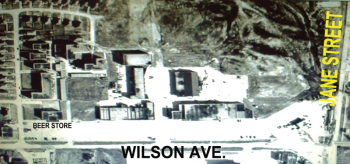 Karl Braeker was one of the officers that worked out of the station. He originally came to Canada from Dorthund, Germany and began working in a variety of professional fields throughout Canada. This included working in Alberta as a dairy farm hand and also in a gold mine. He was able to gain valuable work expertise while becoming skilfully trained as a radio/television electronic technician. During the late 1950's, the Emery area was in the midst of a housing and building boom. Many new schools were required and a number of teachers had to be hired to accommodate all the children moving into the new subdivisions. To help facilitate public demand, recruitment advertisements went out to search for hundreds of police officers that would also be needed.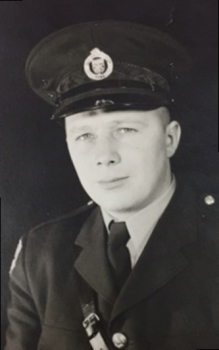 In 1956, Braeker saw an ad and decided to apply for a job with the police. He envisioned the work would be as a radio technician.
He reasoned that motorcycle police officers used walkie-talkies and radios and he wanted to be the technician that could maintain the radios on the motorcycles.
When he inquired, he was directed to apply for work as a regular beat constable and in November 1957 was successful with his training to become one.
As a brand-new constable, his initial duties included the routine washing and polishing of the police cars, which were all unmarked vehicles. There was one 1956 Chevy, two '57 Chevy's and one eight cylinder '55 Ford.
Eventually, an expansion of the headquarters was needed, so a new two level 31 division police station was opened at 1900 Sheppard Avenue West, just east of Jane Street. Together with his workmates, Braeker shifted to the new station and remained working there until his retirement from the force in 1984.
Some of 31 divisional staff at Sheppard included Karl Braeker P.C. # 1196, Tony Sanderson # 278, Joseph Travis # 845, C.H. Adams # 1350, Sanders # 228, Milligan # 339, Payne # 500, Crowe # 1351, Howe # 296 and Campbell # 894. It also included Tom Ball, Carl Cull, Al Day, George Fenwick, John (Jack) Hay, Tom Marett, Jim McNair, George Montpool, Ben Pitchforth, Eddy Prain, Roy Smith, Bob Sutton, Roy Sykes, Harland Wittick, George Young and Remi Van Kiekebelt.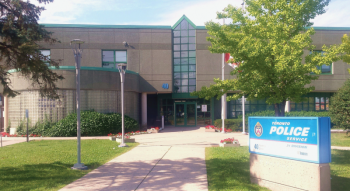 During the course of 31 Division's history at Sheppard, another famous unit commander served the community. In 1964, Julian Fantino began his career working as a security guard at the newly opened Yorkdale Shopping Centre. Over the next five years, he volunteered as an auxiliary police officer before becoming a constable in 1969. He moved up the ladder quickly and was promoted to detective while working on the criminal intelligence squad. He was then selected to be 31 Division's unit commander.
Fantino would later become the chief of police in three large cities (London, York and Toronto) and with the OPP before he was finally elected a Member of Parliament representing Vaughan.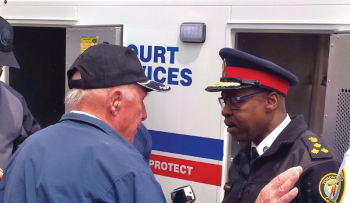 Currently, Colin Greenaway is 31 Division's inspector and Ron Taverner its unit commander. Since 1986, the station has been located at 40 Norfinch Drive, northeast of Finch and Hwy 400. Inspector Greenaway developed his ability from police experience and his homegrown experiences. While a youngster, he resided in the lower part of Ward 7 in Downsview.
Recently, Toronto police chief Mark Saunders was on hand at 31 Division's public open house for a visit. He got a chance to chat with Karl Braeker and reflect upon the dedication that many officers have, and continue to provide, in servicing our community with their dedication and bravery.
Keep up the good work for all of us.