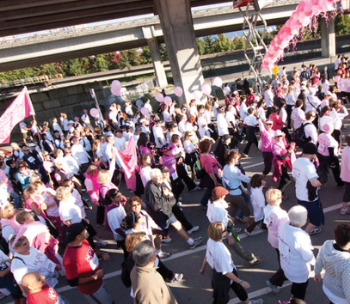 The Canadian Cancer Society invites you to run or walk on Sunday, October 4, for the CIBC Run for the Cure. With one in eight Canadian women expected to be diagnosed with breast cancer in their lifetime, your support matters more than ever.
So, whether it's your first time or you've participated for years, organizers look forward to having you join them and more than 85,000 Canadians in the largest, single-day, volunteer-led event dedicated to changing the future of breast cancer.
Physical distancing is the reality for the foreseeable future, and so they are reimagining the CIBC Run for the Cure. As October 4 approaches, the CCS is developing an exciting virtual experience. Plans include all the best things about run day, such as connecting with teammates, an inspirational opening ceremony, and a high-energy warm-up. As well, you'll be able to create and customize your own CIBC Run for the Cure avatar, fundraise to unlock rewards, and track your steps through a refreshed app or the run website. They'll organize the fun online and you'll have the option to bring together a small group of family and friends to run or walk around your neighbourhood as part of your at-home celebration.
For more information on the race, please visit: www.runguides.com/event/242/cibc-run-for-the-cure-toronto
Or to register online: www.cancer.ca/en/events/on/cibc-run-for-the-cure/cibc-run-for-the-cure-in-toronto