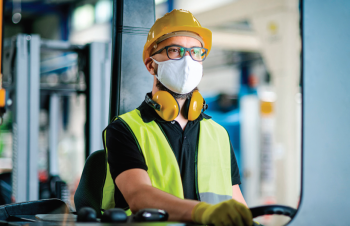 By Sean Delaney
For the past month, the Emery BIA has offered a free SkillsPass COVID-19 work safety course to members. The course provides practical instruction on how to reduce the risk of catching or spreading COVID-19 in the workplace.
The COVID-19 Work Safe online course was created by Bluedrop, a developer of workplace e-learning. The Emery BIA is sponsoring this informative 35-40 minute online course for members at no cost.
Bluedrop worked with some of the country's top medical experts, including Dr. David Mowat, former Chief Medical Officer of Health of Ontario, and Terry Sullivan, Professor with the Institute for Health Policy, Management, and Evaluation with the University of Toronto. Best practices and advice from the Public Health Agency of Canada, and of course, the CDC is utilized as well.
Bluedrop has also committed to updating the course with any new information that becomes available so users will always be informed with the latest information.
The certification program has been promoted in the Emery Village Voice for the past few months. As a result, the BIA is now fielding additional requests from persons who live in Emery but work outside the borders and want to take the course. The good news is the course is now being offered free to anyone that lives in Emery and is currently working, regardless of their work address. Simply register for the program online with a separate prompt available for those working outside the boundaries of the BIA. When registering, you'll need to put in the address and postal code of your place of work. You will require a computer with an internet connection.
The Work Safe course is for anyone that is currently working that requires the course as part of a condition or requirement for their work.
The Voice recently spoke with Brian Arbique, General Manager of Handi Foods Ltd, about his organizations experience with the certification course.

"We put a lot of measures in place early on in March when we instituted remote work, but as we started to come back to the plant, we were doing things like temperature checks, mandatory mask-wearing, and social distancing where possible in the facility. Only essential people were at work, and we implemented shift premiums. I think that we were doing a lot of really good things. The problem, of course, is that eventually, everyone experiences behaviour fatigue, and it's happening right around the time we are most vulnerable. The second wave is here, and we are all moving indoors. I thought that the timing of the BIA certification was more than coincidental and appropriate as it reinforces all of the things that we are doing plus much more."
Arbique went on to say that the only therapy they have to keep each other safe at this time is their behaviour.
"Any help reinforcing those behaviours is really helpful, and you can't do that enough.
"I thought that the course was well done, very engaging and easy to complete. It wasn't too long, and it wasn't boring, very thorough, and very interactive. I completed the course myself, and I encourage everyone to do it."
If you would like to see your workplace take advantage of this free course, talk to your employer. And if you are the employer, talk to your workers.
We can all continue having the safest environment in our workplaces during this critical time.
To register, please visit: https://emerybia.skillspass.com/