By Sean Delaney
Emery Village's premier winemaker Vin De Garage is turning 20, and Emery Village Voice is honouring them as the Business of the Month.
The winemaker began in 1997, when co-founder and chief winemaker Alejandro De Miguel decided to start his own business.
De Miguel went to university in Argentina to study winemaking, and came to Canada in 1990 with his family, a wife and three kids. For seven years he worked at Magnotta winery, but soon, he knew he wanted to create his own vintages.
He loved wine, and he wanted to bring his own touch to the people. A unique take.
"A friend of mine from Argentina came up to me and told be about a movement that was happening in Europe," De Miguel said. "That the great winemakers from the big wineries were a little tired of making wine in big quantities.
"So they started making very concentrated wines in small batches in the garage of their homes. Pressing their own grapes, everything. If you go around the world, you will see it, they call it Vin De Garage wine."
And so, Vin de Garage in Emery was born.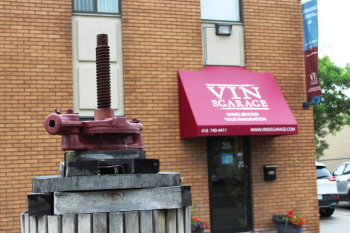 They create high end craft wine for their customers. You choose the region, the flavour, the grape, they brew, you bottle and enjoy.
"We offer you the opportunity to exploit the vast wine knowledge of our in-house oenologists while using the finest products and state-of-the-art equipment to create your own wines at a very affordable price point," their website reads.
"We make real wine with grapes, from beginning to end," said co-owner and winemaker Gustavo De Agostini. "And we will make a whole plan with you from beginning to end. It can take about three to four weeks, depending on the grape and the juices used.
We have juices imported from all regions."
At Vin de Garage you can share the fruits of your labour in a wine collaboration with friends, family or colleagues. If you're unsure about committing to the minimum order on your own, or if you want to order a variety of wines, group winemaking is a great option for you. Your group can book a visit with one of the winemakers at Vin de Garage, and be led through the initial steps to begin your winemaking process.
From grape selection through to bottling, you can engage as much or as little as you desire in the process of winemaking. Within a few short weeks, your handcrafted wines will be ready for barrel aging or available for bottling.
Are you looking to stock your cellar with a selection of barrel-aged, commercial quality wines for a fraction of the cost?
For more info visit: www.vindegarage.com. They are open to the public six days a week at 28 Millwick Drive, Toronto. Phone: (416) 740-4411 or email: info@vindegarage.com