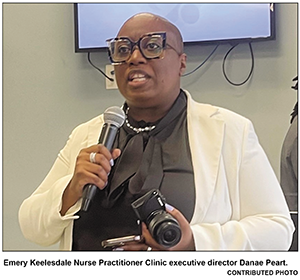 By Sean Delaney
The Emery-Keelesdale Nurse Practitioner-Led Clinic is looking to wrap a big, comforting hug around the entire community of [
Emery Village. It's just what they do.
The clinic has been around since 2011 as a nurse practitioner-led clinic. For those who don't know, this means the healthcare providers are nurse practitioners, nurses who go back to school to do advanced nursing studies at a master's level. Once finished they can prescribe, diagnose, interpret tests, and do referrals.
The idea behind the clinic is to intersect healthcare needs where there are fewer and fewer family doctors.
The model was established to go out to regions of Ontario, or the country, that were remote or did not have enough doctors. It was eventually proposed for Toronto on the basis that the population size is still underserved for primary care.
"A lot of people go to walk-ins and emergency in situations that they feel are emergent and are not assigned to a family doctor," said Executive Director Danae Peart. "So, the nurses offer a primary care provider to avoid those emergent situations. If you have someone along with you on your healthcare journey, you're more likely to be mindful of your care and ward off disease and ailments before they become emergent."
The clinic's purpose is to be a primary care resource for persons in the community who do not have a family doctor or an assigned provider to access full services any other medical clinic would provide. Or to avoid those long waits in an emergency.
"We have people going to emergency with a flu," Peart said. "If you have a primary care provider, you go to them, find out it's the flu, get medication, and you're off. Those in the industry understand the strain this puts on the higher end of the healthcare system. Hospitals that are there to provide acute care are now serving primary care patients."
The clinic provides a comprehensive model or team-based model of care. The goal is to provide a one stop shop for care, so that patients can limit the amount of searching they have to do for a specific type of care.
"We offer a dietician and a social worker as examples," Peart said. "They wouldn't seem to go together, but imagine you come in to see your nurse for an illness, and then, you see a dietician who provides a food plan that can help you live healthier, eat the right vitamins and nutrients to ward off that illness and lead a healthier lifestyle. Then a social worker can help you find additional resources in the healthcare community to increase your odds of avoiding that illness even longer. It's a more wraparound style of care to address all needs and help people avoid some of the long wait times and searching that can happen when addressing their care."
The clinic is located at: Unit 6 - 2972 Islington Avenue.
You can phone them at: 647-476-1351
Email them at: info@eknplc.ca
Or find them online at: eknplc.ca