Publisher comment - Dec 2020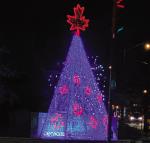 We're almost through one of the busiest times of the year, and this year, no doubt is more hectic than ever. We're all navigating through change at an entirely new pace. On the one hand, change can be exhilarating, and on the other, it can be exhausting. No one knows precisely what is in store, bu...
An update from MP Judy Sgro

Friends, I hope this message finds you and your families well, healthy, and in good spirits. Before we break for the holidays, I wanted to reach out to you to provide a brief summary of the government's recently released 2020 Fall Economic Statement. We know that a hard winter awaits us—but bette...