Humber River Hospital Fundraising Legends On The Court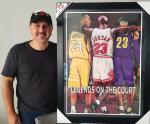 "My wife and I were headed to my parents for a socially distanced Thanksgiving last year," remembers Frank. "I was picking up our order at the Swiss Chalet at Keele and Wilson when I noticed a cool painting of Michael Jordan, Kobe Bryant, and LeBron James." Frank took a photo of the painting, cal...
Upper Crust gift

Upper Crust gift will aid Humber equipment purchase for rapid onsite COVID-19 testing By Sean Delaney Upper Crust has announced that they will match donations for new COVID-19 testing machines at Humber River Hospital, up to $100,000. Their goal is to purchase three new King Fisher Duo Prime...