"My wife and I were headed to my parents for a socially distanced Thanksgiving last year," remembers Frank.
"I was picking up our order at the Swiss Chalet at Keele and Wilson when I noticed a cool painting of Michael Jordan, Kobe Bryant, and LeBron James."
Frank took a photo of the painting, called Legends on the Court, and texted it to his wife.
"The auction supported a good cause at Humber River Hospital Foundation," said Frank. "I was happy she told me to go ahead and bid on it."
Frank grew up near Humber River Hospital, and over the years, the Hospital has been there for his family. Within the past few years, his dad spent two months at the Hospital with a bad infection, and his uncle spent three months between the Hospital and the Church Reactivation Care Centre with a brain bleed.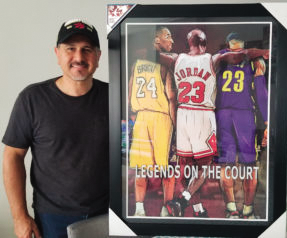 "The level of care my dad and uncle received was exceptional," says Frank. "You never want to need a hospital but we were thankful to have a hospital like Humber so close."
Frank was happy to learn that his bid won him the Legends on the Court painting.
"I am proud my bid is supporting Humber River Hospital," he says. "Now I just have to find a spot to put it."
As the local shops and restaurants begin to re-open their doors this summer, keep an eye out for the art easel auctions raising money for Humber River Hospital Foundation.
Since this program began in 2018, supporters like Frank have helped raise $43,900 for the Hospital.
Partners at Funding Innovation set up the easels, and rotate the artwork every two weeks to keep the auction fresh. Anyone can place a sealed-bid on a rotating variety of musical, sports-related, and traditional artwork and collectibles.
We have some unique and beautiful pieces coming up this year. If you see something you like, place a bid and invest in the future of healthcare in your workplace and community.
The more easel locations secured, the more money will be raised for the hospital. If you or someone you know has a small area of their business (about four sq feet of floor space) available for an easel, please get in touch with Jessica at: 416-242-1000 ext. 81504
Or by emailing:
jvergismayo@hrh.ca
You'll be in great company with current partners Shoppers Drug Mart and Swiss Chalet.