Yesterday and Today - Jan 2021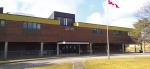 By Tim Lambrinos Reflections of G.B. Warren Junior High School The Humber Summit Middle School provides classes for grades six through eight and is located at 60 Pearldale Avenue. The school is located just north of the Finchdale Plaza along Finch Avenue West. The school operates from a curricu...
Yesterday and Today - Dec 2017

An ever adjusting Christmas time By Tim Lambrinos Every year, our winter months are consolidated by holiday vacations, Christmas Day, New Year's Day and mounds of snow. Many wintertime family necessities remain harmonious over time. The sector of our community near Islington and Finch...