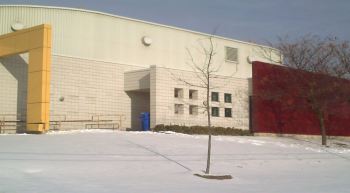 An ever adjusting Christmas time
By Tim Lambrinos
Every year, our winter months are consolidated by holiday vacations, Christmas Day, New Year's Day and mounds of snow. Many wintertime family necessities remain harmonious over time.
The sector of our community near Islington and Finch had once been part of the legendary Rowntree farm. In 1887, William Henry Rowntree and Emily Victoria Brown built the original farmhouse on the top of the hill northeast of the intersection. William and Emily Rowntree had five children; Florence, Stella, Gertrude, Howard and William Joseph. The farmhouse stood very close to a crest along a hill near modern-day Milady Road and the top of Grenadine Court. The original home was destroyed by fire in 1959 as part of the new development called Italian Gardens.
The Rowntree farmhouse had been the focal point of their family on their oversized 150 acre farm that extended along Finch from Islington Avenue to what is now Milvan Drive. Their farm primarily grew grain, had some chickens but grew apples and fruits as well. The available types of apples were Wealthies, Crabapples, Tommin Sweets, Greenings, Yellow Harvest, plus a few more. The farm also had two pear trees. Most varieties of fruit were preserved and kept in the cold room in their cellar over the winter months. Most of the apples were made into pies and other delicious treats consumed through the winter.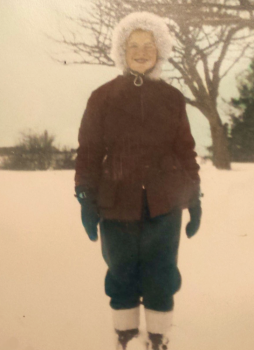 In 1935, Marion Rowntree was born on the farm to William Joseph Rowntree and Verna Pearl Noble. Marion had two sisters and one brother, who were all brought up on the farm. She attended Emery Public School situated at Finch and Weston Road. On a daily basis, she walked the one and a quarter mile route along Finch Avenue to attend school. When she got home, she would quickly change out of her school clothes and into her farm attire.
For heating, the Rowntrees had a large coal-burning furnace in their cellar that was located under the front parlour room. Their furnace pipes had small levers that could turn off the heat supply so that it could be provided to their dining room and downstairs bedroom. The coal chute was situated under their front bay window. A few tons of coal had to be delivered every fall.
As soon as the harvest was completed, it became time to fill their woodshed. The woodshed was a very large addition at the back of the summer kitchen. The wood was thrown from a wagon through a large rectangular opening, near the roof. The wood had been hauled from their bush in a large box wagon that was drawn by two horses. The wood had to be piled methodically so that a maximum amount of firewood could be stored over the winter.
Marion's father William would spend a great deal of time shovelling snow and would cut their Christmas tree right out of their bush. He brought it into the house and nailed two boards in a cross to the trunk of the tree. He used two pieces of twine or small rope to secure the base and the top of the tree to a window jam.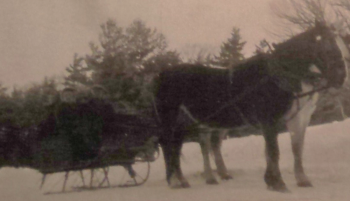 The Rowntrees would never use lit candles on their tree, however. They used silver tinsel, coloured round decorations and some homemade decorations instead. The farmhouse solely used well water and did not have any electricity until 1955, just two years before they left.
On Christmas Day and New Year's Day, their whole house would be heated. During Christmas day, their cooking kitchen stove burned wood continually. Their stockings under the Christmas tree were just ordinary brown stockings that the children used for school. The family would traditionally open their stockings before breakfast. Everyone watched each person while they opened their own gifts. Most of their gifts were new clothes for school. They did not receive many toys but usually got an orange or hard candy from their church Christmas concert.
The family would traditionally eat Christmas dinner in the dining room. The food would be carried into the dining room in covered dishes and bowls. From the turkey to the pies, everything was always prepared to the fullest extent for this special family gathering.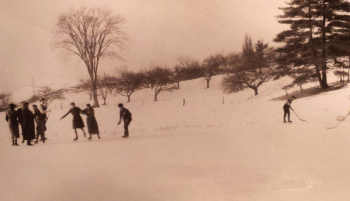 The Rowntrees had some winter sleigh rides and also had skating parties held on their naturally formed outdoor rink. The rink was situated along a flat spot adjacent to Finch Avenue, east of Islington. The spot is close to the parking lot where the Gord & Irene Risk ice rink exists today. The Humber River must have flowed over there or it was merely a settling spot for natural water coming down a stream from their orchard. The sizeable slope to the north of Finch had numerous spots of excellent tobogganing for area children. The whole terrain has undergone significant flattening and grading today.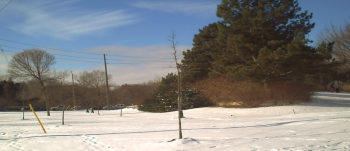 Some things do seem forgotten by so many of what Christmas has been and continues to be. In the hustle and bustle of today's world, many hardships and challenges that former residents faced seem rather unfathomable. However, some traditions at Christmas remain perpetual to many families that include outdoor sporting events and recreation. As well as the enduring occasion that grown up members of family can return home to loved ones and cherish irreplaceable family experiences, at least once per year. And those familiar delightful sounds of children surveying their stockings or opening their gifts on Christmas morn. There remains no greater experience than that all-encompassing joy of opening one's own gifts, together with one's family, on Christmas day. Merry Christmas for 2017 and Happy New Year in 2018.