Yesterday and Today - March 2021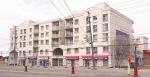 Bringing it together at Amansie Place By Tim Lambrinos Travelling near the centre of Emery Village, residents will see City councillor Anthony Perruzza has a new curbside presence. His constituency office is now located along the front walkway of Amansie Place, a large apartment building on t...
A city with a big heart

By Sean Delaney A big shoutout goes out to Delta Bingo on Wilson Avenue. They have once again shown Emery what the spirit of the holiday season has to offer. Delta Bingo held a special event on Tuesday, Dec. 10th where players were asked to play a new game in addition to the regular 7 p.m. game...