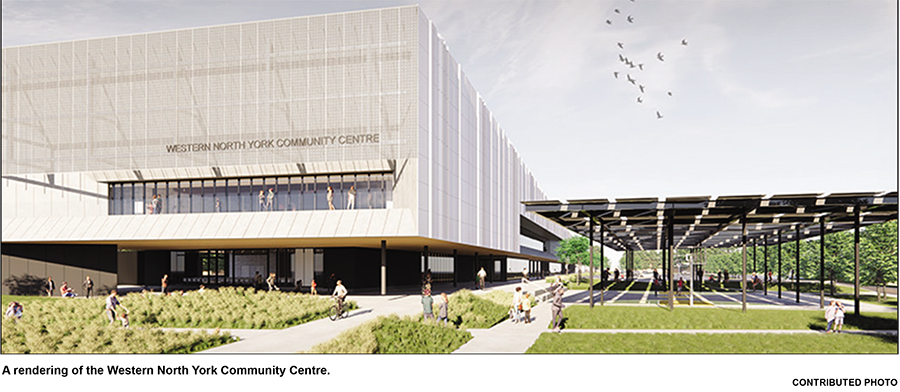 By Jessica Pointon
Assistant to City Councillor Anthony Perruzza
The realization of the Western North York Community Centre is well on its way.
The final design presentation will be in-person at a local venue in June. Residents will receive an invite in the mail from the City of Toronto to attend and can confirm event details by contacting City Councillor Anthony Perruzza's Office at:
416-338-5335
or:
councillor_perruzza@toronto.ca
The City of Toronto hosted its first open house for the project in June of 2019 and organized various pop-ups in the vicinity of Weston and Sheppard over the summer of 2019. Those events engaged residents in their perspectives to form the vision for the new centre.
Staff with City planning, CreateTO, and the consultation team conducted a virtual open house between November 23 and December 18, 2020, for the public to provide more input on the amenities they wanted the centre to include. The survey data collected helped refine and inform a more intricate design of the indoor and outdoor areas.
The 77,000 square foot state-of-the-art community centre will reside at 60 Starview Lane.
The land was purchased in 2015, next to the Toronto Catholic District School Board's St. Basil-the-Great College at 20 Starview Lane.
It's intended to be a net-zero emissions facility to replace the existing Carmine Stefano Community Centre, currently leased by the City. The space will strictly operate through electricity, not powered by fossil fuels. An open-loop ground source heat pump system will heat and cool the interior, protected by well-insulated elements. There will be a Solar Photovoltaic (PV) system on the roof and over the parking lot for sustainable efficiency.
The new community centre will provide enhanced services and programming for all ages. Envisioned components include an aquatic centre, gymnasium, walking track, fitness studios, multi-purpose rooms, licensed child care, and outdoor areas for socializing. This centre will be a hub where families and individuals can gather any day of the week. Community centres are cornerstones for recreation and well-being. This inclusive site will improve the quality of life for the community, ensuring accessibility and connection.
At this time, the project is working through approvals for tender. The City is hiring a construction team to see through the next steps. Construction will begin in 2023, taking a few years to complete. There will be more phases of engagement to keep residents involved, including the naming process. For a virtual tour of the site currently planned, watch the video on Vimeo by visiting:
Or type "Western North York Community Centre" in the Vimeo search window. Residents can also direct questions to:
Cheryl Aleong-Spry, Senior Project Coordinator
416-392-0991,
or:
Cheryl.Aleong-Spry@toronto.ca.
The main website to view all information on the project is:
CreateYourPlace.ca