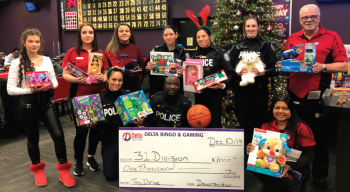 By Sean Delaney
A big shoutout goes out to Delta Bingo on Wilson Avenue. They have once again shown Emery what the spirit of the holiday season has to offer. Delta Bingo held a special event on Tuesday, Dec. 10th where players were asked to play a new game in addition to the regular 7 p.m. game, one specifically designed for the Toy Drive. To qualify, players could either donate a toy or buy a ticket for $5 as the entry. At the end of the night, Delta ended up donating a huge amount of toys in addition to a cheque for $1,000. All the toys and money went to the 31 Division Toy Drive. The game-winner won a $500 jackpot also generously donated by Delta Bingo.
City Councillor Anthony Perruzza hosted his annual Holiday Toy Drive event in partnership with the Toronto Professional Fire Fighters' Association on December 7, 2019. This year's event was held at Oakdale Community Centre on Grandravine Drive, near Jane and Finch.
Toronto firefighters source toy donations every year to help support families throughout Toronto. Various local organizations, including PEACH and Teach2Learn came together to volunteer their time and help match children in their neighbourhoods to toys.
Councillor Perruzza's staff wraps, labels and organizes the gifts weeks before the event.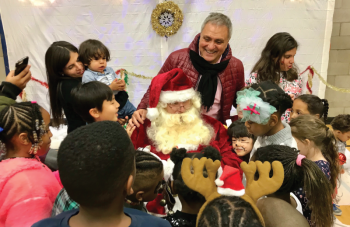 Refreshments were also available so that parents could meet and mingle with others in the community. The event wrapped up with a special visit by Santa Claus, who helped hand out toys and most importantly, met with the children to talk about how excited they were for Christmas.
Councillor Perruzza aims to expand the event next year, if possible. Nearby food vendors sponsored the event and look forward to continuing to do so year after year in the spirit of the season. Last but certainly not least, thank you to Pina and staff of the Islington Avenue CIBC for once again surpassing their goal in the St Roch's 2019 Toy and Food Drive.