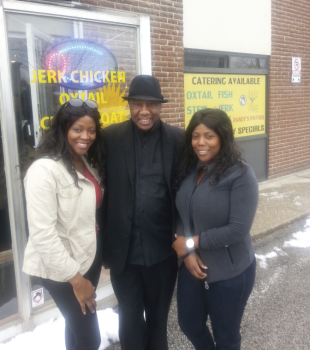 If you're looking for a great way to warm yourself up during the frigid days of winter, take a stroll to Humber Summit's latest culinary hotspot, Jerk "N" Ting.
The restaurant opened up a little over two months ago and features a menu highlighting a healthy serving of Jamaican fare.
"We have everything," said chef Dorel Jones. "Jerk chicken, rice and peas, ox tail, curry goat—we've got everything that you'd expect as well as a few nice surprises. I'm sure that anyone who comes in here to have a meal during our cold Canadian winter will warm up right away.
"Everyone who comes into our restaurant gets a nice introduction to the sights, sounds and flavours of Jamaican culture."
A big part of the restaurant's mandate is to support and celebrate the Humber Summit community.
Working in partnership with local churches and community groups, Jerk "N" Ting hosted its first ever community youth night in early December. The purpose of the event was to provide at-risk youth with an opportunity to engage with one another in a positive environment while enjoying a free meal courtesy of the restaurant staff.
"We feel it's very important to contribute to bettering our community. We hope that this will be the first of many opportunities we have to support young people in our area," said Noumousso Kone, co-owner of Jerk "N" Ting.
"We want to use our food to have a positive impact and we feel this was a great opportunity. As a new business, we are always looking for fun opportunities to serve."
The giving attitude of the team at Jerk "N" Ting is well appreciated by locals in the area, and especially by those who work with Humber Summit's young people on a daily basis.
"It's fantastic when businesses in the local community are willing to partner with us in supporting youth in the area," said Harvest Christian Church Youth Leader David Owusu.
"Not only is this a nice Christmas surprise for the kids in the area but it also shows them that there are people who care and are willing to support them. I'm hopeful that more businesses like Jerk "N" Ting will join us in our outreach and encourage further community development in Humber Summit," Owusu added.
(Pictured: Yhanique Facey, Dorel Jones and Noumousso Kone)