Another successful Emery Village food and toy drive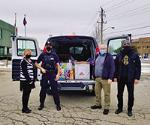 By Sean Delaney Putting a smile on a child's face is important this time of year. Thankfully, numerous local businesses help contribute to the many community toy and food drives. The wish is that all children experience the wonder and joy of receiving a gift, and families can celebrate the festiv...
Emery Gala Awards

The 2016 Youth Entrepreneurship Award recognizes a young adult or teen in their formative career in business who have achieved notable success with their ideas, endeavours and skills development. This year the award goes to Rhythm in Motion. Christopher Gallina started his first dance business at t...