The 2016 Youth Entrepreneurship Award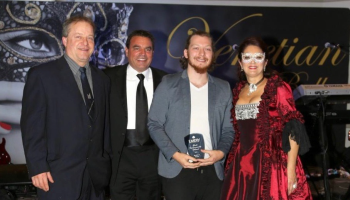 recognizes a young adult or teen in their formative career in business who have achieved notable success with their ideas, endeavours and skills development. This year the award goes to Rhythm in Motion. Christopher Gallina started his first dance business at the age of 16. His love of dance gave birth to a performance company that organizes dance conventions with the best of dance teachers and choreographers together in one location. This year's event attracted more than 250 dancers at a local hotel. Accepting the award, Christopher Gallina.
The Emery Entrepreneurial Award recognizes an individual or business that has created impressive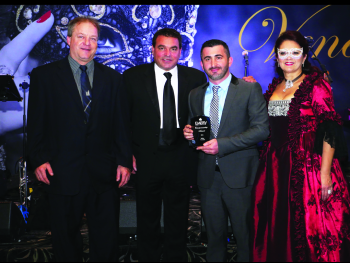 success and growth over the years. The winner has made a significant contribution to the Canadian marketplace with their products and services and in the creation of wealth and employment. This year's recipient, INKAS Group of Companies Canada is a multifaceted business providing financial and security solutions globally. It is headquartered in Emery Village where it has expanded its facilities and employment. Roman Shimonov, VP of Marketing & Business Development at INKAS Group of Companies accepted the award.
The Environmental Stewardship Award is given to an individual or company with a proven record promoting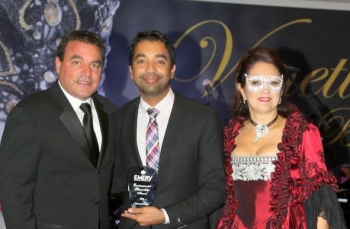 the responsible use of resources through recycling, reclamation, conservation and the adoption of sustainable practices in their business model. Emery Village is happy to announce Thermagreen Environmental and EF Walter Inc. as recipient of this year's award. Thermagreen has applied, "innovative client solutions through the conversion of polyethylene foam materials into cost-effective and high performance products and solutions. Accepting the award on behalf of Thermagreen, was Mr. Oswyn Avares.
The Robert Chabot Award, named after Robert Chabot, a founding member of the BIA and owner of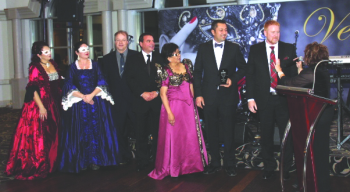 Centennial Sweeping Ltd. Chabot's passion in organizing businesses to combat pollutants led to the BIA seeking progressive action. It honours the spirit of his contribution to his community by recognizing the special effort and exemplary contribution.
We applaud this year's recipient, Macgregor Meats and Seafood for propagating their business model with responsible and positive values. Their ongoing contributions to various worthy causes set a high bar. Accepting the award was Duncan Macgregor, the President.
Long- Serving Business in the Community Award
Since the 1960, the family behind this company has filled a never ending demand for authentic Italian food products has become a mainstay on food shelves and a fixture in our business community. This year's winner of Long Serving Business in the Community Award goes to Excelsior Foods. Accepting on the behalf of Excelsior Foods, Steve Sanderson - one of the founding members of the BIA.