Emery's expert on cheese is opening up a whole new market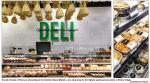 By Sean Delaney Grande Cheese is rebranding, so to speak, and for a good reason. They have always been so much more than just the highest quality cheese purveyor, but now, they are making sure customers know they are a one-stop shop for many of their food needs including a place to stop in and g...
Business of the Month: Grande Cheese

Grande Cheese is more than just another cheese store By Sean Delaney Grande Cheese was born out of a friendship between a father and a gentleman he boarded with. "It was in my aunt's house," said co-owner Lennie Contardi. "He was from northern Italy, my father form the south. They boarde...