The YNOT Youth Now On Track 15th Annual Recognition Awards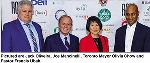 Celebrating Excellence and Dedication The Emery Village community recently came together in a spectacular display of unity, camaraderie, and recognition at the 15th annual "Youth Now On Track" (YNOT) Recognition Awards Dinner. The event was a grand affair, attended by over 200 community member...
Building, and bettering the community

By Sean Delaney This month, the Emery Village Voice sat down with Pastor Francis Ubah to discuss his Youth Now On Track (YNOT) program and how it aids Emery's youth. EVV: Tell me about your program. PFU: Is a not-for-profit community organization supporting youth and families for the past 15...