Rivermede House and its first owner, Percy Gardiner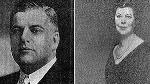 By Edith George I have been a resident of the Humbermede neighbourhood since 1960. Last month, I wrote about the architect of the house named Rivermede, located at 3100 Weston Road. My objective is to have this house designated as heritage under the Ontario Heritage Act. My application demonstrat...
Yesterday and Today: The Felling of Trees

The felling of trees in a forest By Tim Lambrinos In 1831, Matthew Griffith of Ireland purchased a large plot of land along Weston Road north of Sheppard. Within this land stood a thick forest that would encompass present day Coral Gable Drive. After his purchase, Griffith began clearing h...