By Edith George
I have been a resident of the Humbermede neighbourhood since 1960.
Last month, I wrote about the architect of the house named Rivermede, located at 3100 Weston Road. My objective is to have this house designated as heritage under the Ontario Heritage Act.
My application demonstrated the enormous architectural value of this house, including information about the families that owned Rivermede. I also included what they, and their family members, contributed to Toronto, Ontario, Canada, and the World.
This month I write about the Percy and Gertrude Gardiner Family and their contributions.
Past news articles have been written about Mr. Gardiner's various businesses, but very little regarding his contribution to sports in the City of Toronto.
Columnist, Bob Pennington, wrote after Mr. Gardiner's death in 1965, "if ever those dreams of a major league baseball stadium materialize in Metro (Toronto), the name would be no problem. It should be called the Percy Gardiner stadium …."
Mr. Gardiner was not only a player in his youth but was also at one time, the major shareholder in the Maple Leafs Baseball Club located at the bottom of Bathurst Street and Lakeshore Boulevard.
He led a group of Torontonians who rescued this Toronto franchise when an Albany, N.Y. group was bidding to acquire it from the Oakley-Dunn estate during the winter of 1936-1937. In fact, during the early years of WWII, he shouldered the entire financial burden of the team. He even arranged for the Leafs to play a league game in his hometown of Mount Forest, Ontario. The Toronto baseball team remained in the city until the end of the 1967 season. This was long enough to ensure a lasting memory of elite baseball in Toronto when the city obtained a major league baseball franchise in 1977 named the Toronto Blue Jays.
Gardiner's wife, Gertrude, could always be seen with him in the stands, cheering for the Leafs. Mrs. Gardiner was a philanthropic volunteer with her interests in the National Ballet in Toronto and the Canadian Amateur Theatre Guild, the latter perhaps because her daughter, Helen, had dreams to someday be an actress.
Percy Gardiner was also interested in hockey and was on the Board of Directors of Maple Leaf Gardens (1941 - 1958). His son, George Gardiner, took his seat on the Board from 1958 to 1970.
Conn Smythe and Percy Gardiner were close friends. I received an email from Dr. Hugh Smythe (Conn Smythe's son) about these two men and their relationship. Dr. Smythe informed me of something of interest. When his father returned from WWII, he was severely wounded and had many health issues. Apparently, the "senior elements" at the Gardens wanted to exclude him. He had too few shares to defend himself from these members, but he had two close friends, Jack Bickell and Percy Gardiner, who offered him their shares at a reasonable price so Smythe would not be ousted. Mr. Gardiner was not concerned about any interest on this loan. Gardiner said to Smythe, "you pay what you can now; we'll string the rest out over a few years."
Percy also was partnered with Patrick Corcoran, one of his brothers-in-law, in wrestling at Maple Leaf Gardens.
Percy and Gertrude Gardiner passed away before the established dates of the Order of Canada and the Order of Ontario. Their son George became an Officer, and their daughter-in-law, Helen, became a Member of the Order of Canada. George Gardiner also became a Member of the Order of Ontario. Percy and Gertrude Gardiner's daughter, Helen, and her husband, Paul Phelan, became members of the Order of Canada for their contributions in various areas. George and Helen Gardiner are remembered for their contribution of the internationally acclaimed Gardiner Museum. You can see the Helen Gardiner Phelan Playhouse at 79 St. George Street at her alma mater of U of T.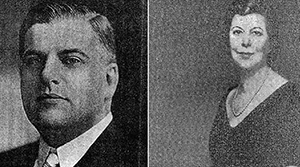 Percy always took care of his family members. In an interview with his nephew, Frank Gardiner, Frank recalled a story from his youth when he lived in Mount Forest and had a severe injury. His Uncle Percy had him driven to Toronto to obtain top medical care. Frank was thrilled when he received an invite to the unveiling of the Heritage Toronto tree plaque on September 14, 2019. He later went to see Rivermede, the house which brought back some family memories.
What were the Gardiner Family's contributions to my family? Percy Gardiner was the youngest of six children, two of his older brothers became doctors, and their last practices were founded in Toronto. Dr. George Gardiner's practice was located at 123 Annette Street in the Junction.
My family came to Toronto from Macedonia, Greece. They settled in the Junction at 112 Mulock Avenue.
Dr. George Gardiner was their house doctor. When my dad was a young teenager, he became deathly ill, and Dr. Gardiner was summoned to the house and immediately discovered that my dad's appendix had burst in his body. He got my dad into his vehicle, rushed him to the hospital, and my dad survived. A few years later, my aunt Florence became ill, and Dr. Gardiner came to the house and informed her parents that she had rheumatic fever and it did not look like she was going to survive. He wanted to try a new drug on her, and of course, her parents gave him permission. This new drug was penicillin. My aunt survived.
These were the Gardiner Family's contributions to my family.…. and they never had our great red oak cut down.
History lost is history hidden.
My next article will be on the Crang Family. The second family that owned and lived at Rivermede.