Alton Windows & Doors - 50 years of service and innovation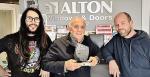 By Sean Delaney Alton Windows & Doors has a proven track record of experience with both commercial and residential window manufacturing and installation. As a manufacturer of windows for more than 50 years, they can custom-make windows designed to fit any project's needs and budget. Each Alto...
A secure fit in Alton Windows and Doors

By Sean Delaney Alton Window Doors started in 1972, on Weston Road south of Steeles. Later it would move to the south side of Steeles near Pine Valley or Fenmar. Chito Buccheri is credited with expanding it on Fenmar. "From 1981 to 1988, I was a dealer," said John Paterra, owner of Alton ...