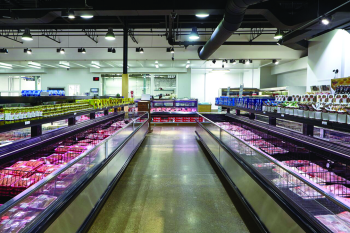 By Sean Delaney
Oh the weather outside is frightful…
So pop into Globe Meats Fresh Market & Grill, and have something delightful.
Dante DiBiase, president of Globe Meats, recently sat down with the Emery Village Voice to talk about his businesses ability to answer to all of your holiday needs.
"It's the holiday season, everyone is getting together with family, celebrating Christmas and family time, so you want to reward, indulge and spend that time with your family," he said. "Well there's no better way to do it then to socialize with good food on your table."
And the holidays are always a festive meal.
Whether Christmas turkeys, lamb, goat, veal or beef, whatever your family tradition, it is typically a meal built around a main attraction with the rest of the meal spiraling out from that.
Well Globe Meats can fulfill any need you may have.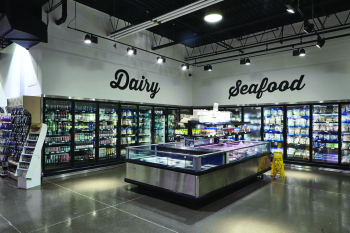 "With my family, somebody takes a turn and does the Friday, maybe with the veal," DiBiase said. "They'll try to get everyone together with different family members taking a turn with perhaps beef or the lamb and we're always trying to get everyone together even though we're also trying to do something different. But that's family, and we understand that."
Why is Globe the ideal place to shop?
DiBiase said it's because they are an experienced butcher shop who has been hand selecting meats since 1974, and have the experience behind them, and ahead of them, to fill out any table.
"We've learned from our ancestors' traditions, our grandparents, our parents, we've changed and evolved with the times, and we still do the traditional better than anyone."
Globe used to focus on the wholesale side of beef and veal, whereas today they are more focused toward ala carte and what their customers want out of the retail side. But as the president noted, they haven't forgotten their roots.
"You want a full lamb, cow, we still do bulk orders," DiBiase said. "You want a custom cut, thick, thin, a portion of ground, steaks, that's why you should come to Globe. We can do it all."
Globe Meats features a full service meat counter, with fresh high end meat they take a lot of pride in.
They buy the best the market is offering. Such as the higher end Canadian certified angus. While many shops settle for American certified angus, not Globe. They actively seek Canadian.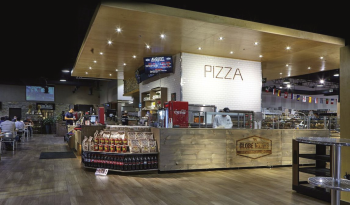 "We are hand selecting our beef and veal, our lambs are all sourced Canadian lambs, we have duck, and game meats including pheasants and quails for Christmas," DiBiase said. "We are the one stop shop for butchery and meats."
And that selection even includes a large seafood section full of shrimps, calamari, salmon, and a good variety of all frozen seafood.
Need to polish off the ending, well Globe can help there too. A wide variety of Christmas cakes, from the traditional to the new flavours of old Italian favourites line the shelves.
And should your business, family or corporation be looking to put on the highest quality of get together (want to do a little impressing?) – handle it at Globe.
"Our focus is our restaurant, we're here serving our meats into this restaurant, our lamb burgers and Philly cheese steak, our steak, the fries are all hand cut. Our signature is our Porchetta. We're becoming known for it. But corporate events, fundraisers, we can handle it all with the same quality."
Globe has put together a carvery tent, ready to serve upward of 1,000 people an hour.
Outdoor barbecues, grilling, they can handle a variety of things. But perhaps your need is a family function and you simply want to serve your guests the highest quality food. Don't hesitate to ask.
"Want to do a Christmas party here, or a function? We're open seven days a week on the restaurant, and filling up right now, but come check us out and talk to us," DiBiase said. "We've had birthday parties with jumping castles and piñatas, private to corporate events of 80 to 90 people. We're slowly becoming a destination place for catering in Emery Village, so come check us out."
Globe is also licensed now, an opportunity to pair their great food with the right drink to bring out the best of every flavor.
Globe Meats is located at 61 Signet Drive.
More can be found at: globemeatsmarket.com