...and Members Improving Living Space in Emery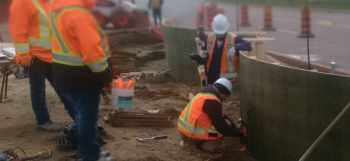 By Sean Delaney
Did you know work is underway on the east side of Islington Ave starting north of Satterly Rd and continuing south to the last driveway before San Pietro Way?
Once completed, this project will include, new wider sidewalks, modern LED pedestrian lighting with space for light pole banners, floral arms and 15 raised tree planters that will include seasonal lighting and a beautiful historic marker with commemorative plates.
The project also includes three stainless steel benches for those who want to rest and take in the sights along with colourful road pavers and a raised garden feature at the south end. When finished, residents will be able to enjoy a more pleasant and brighter, safe and aesthetically vibrant boulevard to attract both shoppers and pedestrians to Humber Summitt.
Completion is expected to happen in the early fall of 2018.