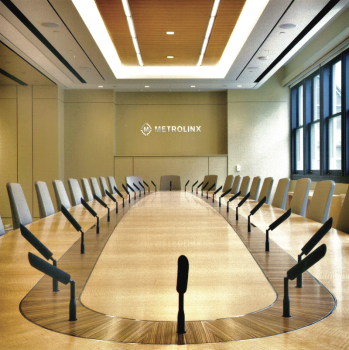 The making of Emery's first three industrial factories
By Tim Lambrinos
By the late 1950's, Camillo Domenico Milani was taking on the enormous task of creating the largest industrial sector in the nation. With such a massive vision in mind, Milani needed to accept numerous financial partners in order to frame up a reliable investment group.
At the Township of North York, John C. Curtis headed up the municipal planning department and reviewed Milani's grand plan of building groups of factories over newly zoned farmland. Curtis was very supportive of Milani's overall plan and actually shaped some municipal policies to accommodate it. Curtis amiably referred to Milani's partnership firm as "The Syndicate" in many official documents. Milani named his firm Signet Properties. Together with his chief financial partner, J.C. Vanhuse, the two men assertively took on the role to advance a building boom that the country had never seen before.
Milani began construction of three new warehouse buildings in 1959. He began by cutting two new industrial roads into the farmland directly north of Finch. This area had been part of the 150 acre farm that Milani had purchased from the Rowntree family in 1957. Milvan Drive was the first road named by grouping the two chief partners' surnames together, Milani and Vanhuse. The other new adjoining street was named Penn Drive after one of their partners.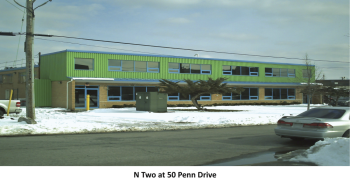 By 1960, three brand new industrial factories were built and opened for business on a portion of these two new roads. Fifty-five Penn Drive was one of them, initially accommodating Harley Davidson. The building at 48 and 50 Penn Drive connected two semi-detached industrial units. And 21 Milvan Drive was the other factory, rounding off the first three industrial structures built in the area.
Svend Nielsen Contract Furniture Company currently runs out of 55 Penn Drive where the Harley Davidson factory initially operated. In the 1960's and 70's, Harley Davidson's rear garbage bin was jubilantly and routinely searched by local boys to find spare parts to supe up their bicycles or homemade go-karts. Nielsen's expertise in wood-crafting and fabrication originate from the great cabinet making city of Copenhagen, Denmark.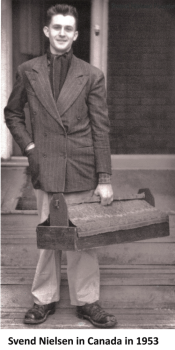 In 1944, Nielsen had worked to become a carpenter's apprentice at the youthful age of 14.
At the age of 23, he jumped at an opportunity to immigrate to Canada after World War II had ended.
After two decades of honing his carpentry skills, Nielson opened his own Canadian company in Mississauga in 1978. He relocated his firm to Penn Drive in 1996. Currently, his son Derrick continues to run the family operation along with his wife Lene.
The Svend Nielsen wood-crafting company has top quality expertise in designed contracts requiring fine wood fabrication and installation. Their talented craftsmen and installers carry out these personalized projects. One of their experienced cabinetmakers is Joe Micelotta. Their firm specializes in manufacturing ultramodern and contemporary looking conference tables and state of the art reception areas that are all custom-built. They have completed projects for many large corporate clients around the world.
One recently was the boardroom and reception desk at Metrolinx. Svend Nielsen's legendary name continues to stylishly maintain their firm out of one of our sector's first built buildings.
Across the street at 50 Penn Drive, Satin Finish Flooring initially operated from 1960. Their company grew rapidly in their first few years requiring them to expand and combine the two separate units in a larger single operation in 1964. Going back just a few recent years, the building and surrounding property looked as if it had been abandoned. In December 2014, Wayne Chuck had been looking to relocate his liquid nitrogen business from Concord, Ontario. Chuck saw great potential in the site and particularly liked the easy access to principal transportation routes that the area offered.
His business, N Two Cryogenic, responds when emergency repairs are needed without having to shut down and drain a building's water supply, heating or cooling systems. Their firm uses liquid nitrogen to freeze pipes and confine all liquids such as water, glycol and oils. Their techniques are faster, more efficient and better for the environment. In addition, liquid nitrogen freezing doesn't use any chemicals to create a plug. This means that no possible or harmful chemicals need to be disposed of after the job.
When Wayne Chuck moved his business to this location in 2014, an incredible amount of renovation was required to fix up the interior of the building and outside property. Chuck dove into the repairs and even took extreme care to keep the original parquet flooring that Satin Finish had installed. His firm is a family-run business that he hopes his son Dayton will take over from him some day. Chuck reflected on his extensive renovation of the property that occurred.
"It's amazing that with a little bit of paint, a little bit of hard work and a little bit of luck, it can make everything good", he said.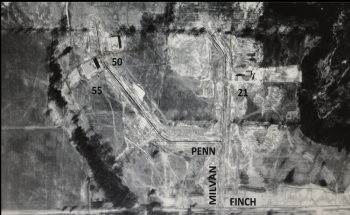 At 21 Milvan Drive, Gib-San Pool and Landscape Creations owns and operates their facility and pool building business out of the other original building today. Ed Gibbs has been operating his business for 50 years. In that time, he has built thousands of pools in the GTA. His firm specializes in distant installations, complex logistics and uses an ISO Quality Management System, a Health and Safety ISO System and an ISO Environmental System.
Gibbs' company has the distinction of building one of the world's largest residential pools in St. Maarten in the Caribbean Islands. Another outstanding project is a pool that was built for the Marriott Resort in St Kitts. One of their most notable projects was managing the construction of the second highest swimming pool in the world. It is situated on the 67th floor of one of the highest towers in Abu Dhabi, of the United Arab Emirates.
In 2013, Gibbs rebuilt the existing building and invested $2,580,000 to modernize the facility. He demonstrated his company's commitment to the Emery Village community, to his employees and to the third generation. The Emery Village Voice is pleased to pay tribute to Wayne Chuck, Derrick Nielsen and Ed Gibbs for their continuing efforts in maintaining their extraordinary and respected companies within the Emery BIA. And of course, having the distinction to run their businesses from the first three industrial buildings that were built in the area.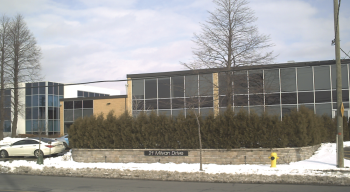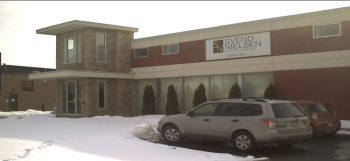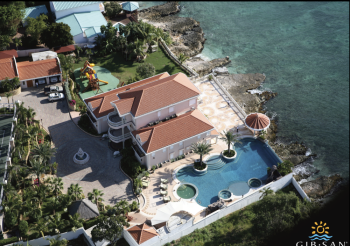 (Top photo) Boardroom designed by Helen Moffett Associates for Metrolinx.
(Next photo) N Two t 50 Penn Drive.
(Third photo ) Svend Nielsen in Canada in 1953.
(Aerial photo) 1960 aerial view of Milvan Drive and Penn Drive.
(Right) Gib-San Pool at 21 Milvan Drive
(Right) Svend Nielsen Furniture at 55 Penn Drive.
(Bottom photo) Outdoor pool in St. Maarten in the Caribbean.