A history of the Humberlea Community
By Tim Lambrinos
Humberlea is the community whose neighbourhoods surround Weston Road from Wilson Avenue, north to Sheppard. Its history is quite astonishing.
Two names appear as original forefathers to the area from the mid 1800's. James Lever and William John Chew were well recognized and highly established. The Chew Estate included a magnificent white house that stood near the intersection of Wilson Avenue, Walsh Avenue and Albion Road but was torn down when the 401 was extended through in 1955.
CPR train tracks run north/south and have served as the eastern boundary line of the community since 1870.
In 1920, on the east side of the tracks, Jethro K. Crang and his wife Audrey purchased a 250 acre farm that extended along Wilson Avenue from Jane Street. Henry Pellatt of Casa Loma fame was the owner of the property and actually sold the land at the time to get additional financial surety and assist building his new castle. By the 1930's, Crang along with a Mr. Booth, built a brick factory located on the east side of the train tracks. The plant was close to Marmora Ave, opposite Highbury Road and Wallassey Avenue and had direct loading access to the tracks. The clay to manufacture bricks was mined from a large clay deposit situated where Highway 400 now intersects Wilson Avenue. This former clay deposit was very close to a position along the current street of Clayson Road, hence the name. The clay was conveyed by an overhead cable and bucket system that travelled horizontally across the ground for a long distance. In the 70s, the abandoned brick factory served as a play-spot for children. The factory holds the distinction of being Emery's first certified and major commercial building and/or manufacturing plant. This was followed locally by Southam Murray Printing Plant which operated a large industrial plant on Starview Lane and provided employment to a good number of area residents. Currently, St. Basil's Collegiate and High School is at the former location. Another nearby commercial building, the Reichold paint additive plant operated on Wilson Avenue and Welland Avenue on the rural outskirts of North York beginning in 1948. Currently, Kooy Brothers heavy machinery sales office occupies the spot.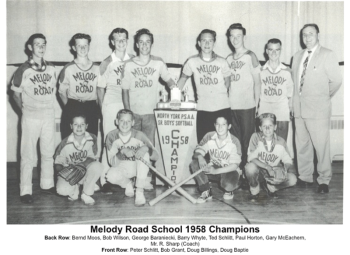 Organized religion was first practiced in Humberlea in a garage on Reuben Avenue. It wasn't until 1928 that Riverside United Church became organized with Rev. R.H. Rogers first conducting the assembly. Then on November 2, 1969, the portable Emery United Church on Weston Road near Habitant Drive closed and the current name of Riverside-Emery United Church combined both churches which then served the grander community at-large.
In the 30s and 40s, a good portion of present-day Humberlea had a large cattle operation on the east side of Weston Road called the Caufield Dairy Farm. Jersey cows grazed in nearby grasslands until pastures became houses and yards in 1949, intended for the veterans returning from WW II. Hundreds of new war-time homes and streets were constructed creating Lovilla Boulevard, Gaydon Avenue, Aura Lea Boulevard, Wallassey Avenue, Melody Road and Sunset Trail. At this time Strathburn Boulevard did not actually extend through to Weston Road and was known as Queen Anne Boulevard. Blondin Avenue had the Blondin Loop as a northerly returning point for TTC street car service and intersected Weston Road near Albion.
In 1951, Melody Road Public School was built at a cost of $190,000 and had 10 classrooms, one kindergarten and one playroom. The first principal was B.B. Dawson, a very systematized and respected man who actually took on sharing teaching duties with Grade 8 teacher Mrs. Kedey for several years. The boys of the area were very skilled athletically, particularly in baseball. In 1952, the boys' team almost won the North York Championship by bunting. Sports excellence continued in the community when the 1957 boys' hockey team and the 1958 boys' baseball team both won the North York Championship for Melody Road Public School. The 1958 baseball team featured Barry Whyte excelling as a pitcher assisted by some clutch hitting by Ted Schlitt.
In 1954, Hurricane Hazel ripped through Humberlea along the Humber and put an end to the connecting bridge over to Etobicoke along the old Albion Road, now known as Flindon. At this time, modern-day Flindon Road was actually the starting point of Albion Road but unfortunately had already been categorized as a traffic hazard even prior to the flood. The original portion of the community included homes along Weston Road and on streets Reuben, Omagh, Lilac and Acacia. The intersection of Flindon Road and Weston Road was actually commonly referred to as Mason's Corners. Fragments from the old foundation of The Flindon Bridge are still visible.
Humberlea continues to prosper as a well-established community backboned along winding sections of Weston Road on an original portion of the former Huron Indian Trail known as The Toronto Carrying Place. The road is a component of a 600 year old Indian trail that extended along the east banks of the Humber River and served our indigenous residents as a walking short-cut to Georgian Bay. This aboriginal pathway began at Lake Ontario near High Park through zigzagging sections of Weston Road today. Weston Road became an officially road in Ontario under the oversight of Governor Lord Graves Simcoe in 1795 and was known as Concession Road 6 and as Main Street in Humberlea and Emery Village.