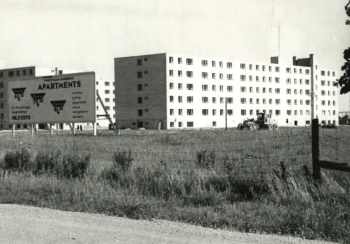 The changing face of Finch Avenue West
By Tim Lambrinos
Just over 50 years ago, Emery Village's portion of Finch Avenue West was still referred to as the Emery-Elia Sideroad. The centre of Emery Village was situated at the corner of Finch and Weston Road and the small village of Elia was located further east at the intersection of Keele and Finch. The original dirt roadway, now known as Finch, was originally cut in 1795 by the King's Rangers using saws and axes under the leadership of Lieutenant Governor Lord Graves Simcoe. The Rangers created all the province's dirt roads in hopes that settlers would have access and begin living in Upper Canada as agricultural operators by claiming their free 200 acre lots for their own. Issac Devins and Mary Chapman were the first settlers to arrive in Emery and took up shop at the intersection of Lot 20 Sideroad and Concession 6 (South West side of Finch and Weston). At this time, the Emery Sideroad actually came to a deadend travelling west to Islington and did not extend into Etobicoke until 1986.
In 1955, when Camillo Milani spearheaded Signet Properties and the building of all of Emery's factories and industrial streets, the Township of North York's Planning Director was J.C. Curtis who was an important advocate for the building of all of Emery's plants and future residential developments. A separate entrepreneur took inspiration from Milani and constructed the very first yellow-brick Finch Garden Apartments in 1955 for collective housing in expectation that Milani's new workforce would consider using close-by accommodation to get to work. These apartment buildings represented a new housing form that was beginning to be constructed throughout all of Toronto – large scale multiple unit, multiple storey apartment buildings considered avant-garde for the time. The building still stands today close to Finch and Jayzel encircled by recently built townhomes.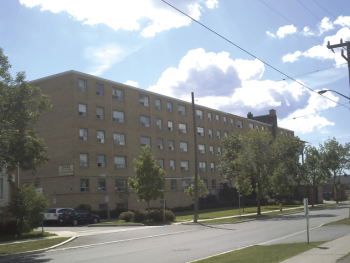 The building of Emery's first shopping plaza along Finch occurred in 1958 – it was originally designed as a medical centre. Finch-Main Plaza contained 13 retail stores, including a billiard hall, a Loblaws grocery store (now Long Hui Supermarket), an IDA drug store later called Farmacia, Hermes Restaurant, Beckers (now Daisy Mart) and Alder Jeweller.
Burger Chef (a U.S. fast food chain) opened on Finch on the north side, west of Weston Road in 1969 and the original building was then transformed into a Crock n' Block and now houses the very fine Caribbean Heat 3, west Indian restaurant complete with an outdoor patio. Tubby's Restaurant was a charcoal grilled burger eatery in the 70's and 80's and operated close to where Burger King and McDonald's operate today on the north side of Finch. The Esso Gas Station and now "On the Run" Convenience Store has been a mainstay in the community at Finch and Weston Road since the 1940s.
These days along Finch, the road has been widened to maximum capacity and Finch serves largely as a commuter's drive through Emery Village. Future plans for the LRT intend to rip through the middle of Finch and minimize vehicular capacity. However, specific consequences of this minimizing have not been thoroughly examined with the community in mind. The LRT concept is best suited for strictly an urban area but Emery Village was planned and designed as a suburban neighbourhood. There's a great difference. A suburban neighbourhood has enough room for opportunities in bordering parts to create great walking pathways and bicycle paths in places like Hydro Corridors and through river beds and ravines. We have more options. Downtown urban communities don't have the luxury or options as we do.
Has anyone at Metrolinx taken any thought what will happen to the people that are driving along Finch and want to make left turns into KFC or into their apartment building entrance along Finch? Has anyone thought why the TTC transit stop at Finch and Jayzel will no longer be an option to get on or off since it will no longer exist? Yes, the specialists at Metrolinx have and access off Finch will be one direction only. Metrolinx expects drivers to enter from westbound traffic lanes only.
Even late at night when the LRT won't be running frequently – U-Turn City is the answer. Has anyone thought of the trucks that need to service the core of the industrial area? Cole Engineering has and they have meticulously calculated that this will become a whole other nightmare for the road.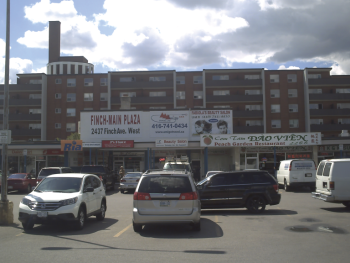 Once anyone realizes the level that these restraints and nuisances are having on our entire community, unfortunately it will be too late. It's very exasperating when some so-called expert tells me this is a done deal.
A simulation is a good idea for the Emery Village BIA to undertake right now and show everyone what the reality will be before things are built. The Ford Finch Subway Plan to the Airport makes better sense and I'm glad our Councillor supports this long term notion too. It will take longer but we can keep using buses on Finch until the best plan materializes down the road.
Right now, the Emery Village BIA is attempting to point out these estimated problems and negotiate all these aspects with Metrolinx in an attempt to, at the very least, to put the intersection of Finch and Weston underground for the impending LRT.
One can only hope that our section of Finch Avenue West can unfold suitably and can be given the great respect that the roadway truly deserves as history has shown us what a great road Finch truly has been to Emery Village.