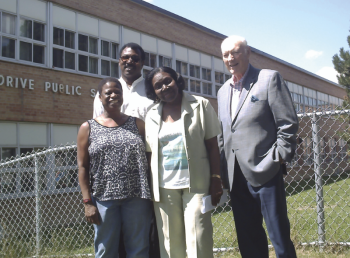 Daystrom Drive Public School's child track stars
BY TIM LAMBRINOS
The Humbermede Community that surrounds core streets Lanyard Road and Lindy Lou Road began in 1955 with the construction of four yellow-brick six-storey apartment buildings along Lindy Lou and Finch. These residences were initially built to accommodate factory workers and in 1957 were complimented by newly-built semi-detached homes and streets. Daystrom Drive Public School was built for children moving into the community but wasn't opened until Feb. 1960. For two years, new area children were required to attend the old 1914 Emery Public School located on the northeast corner of Finch and Weston Rd. or were driven to Calico Public School by bus.
The first Principal of the school was Arthur Ward. Some other prominent educators during the initial opening period included Mrs. Kate Malcolm, Mrs. Jean Boncheff, Mrs. Anne Finlay, Mrs. Jean Salmon, Gary Hunt, Ross Gammage, Alex Bartholemey (who taught Grade 8) and Vice-Principal George V. Meek.
For several years, the gymnasium just inside the front entrance was required to accommodate two classrooms separated by six foot high dividers. Adapting to the demand of increasing enrolment the school added a one storey south-wing in 1963, a senior kindergarten, staff lounge and dentist's office in 1965 and extended the north-wing with an "open area" concept in 1969.
From 1965, John D. Clubine became Principal of the school and stayed until 1976. He had two trusty Vice Principals supporting him, Doug Wallace and George Dawson. During the Clubine era, the elementary school peaked in attendance from 1967 to 1972 shortening the range of grades from Kindergarten to Grade 6. Yearly enrolment consistently topped just over 1,000 during these pinnacle years. Portables became "standard equipment" in the rear yard with no fewer than seven occupying a good portion of the baseball diamond. A strap was administered by the Principals when circumstances demanded.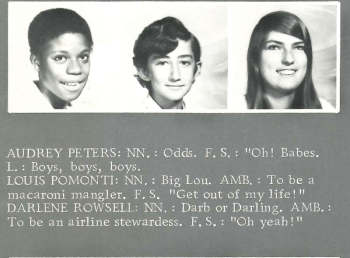 Play-Day and track meets were held each year with running and jumping being assessed. Daystrom always had a reputation of having some very fast-running kids that competed at area track meets and were outstandingly coached by Mr. Hunter and Mr. Walker. Edwin Wong, Ralph Aitchison, Silvana Andriano, Karen Doherty, Keith Cairns, Dave Lance, Bill Gillingham, Gord Sweeney, Maria Fazari, Marlene Cadeau, Valerie Lozinski and Randy Lozinski were all accomplished standouts. They competed against other children from Gulfstream and Melody and moved on to compete at larger track meets that included Whitfield, Gracedale and Bluehaven. During the 1968 – 1969 season at a track meet held at Daystrom, Gulfstream's Robin Neal held his breath to leave Gord Sweeney in the dust and achieve the status of being the area's fastest senior boy in the 100 yard dash. During this same year, Daystrom Drive Public School saw two young students win races for the senior girls' and junior boys' competitions becoming two of the fastest kids ever in all of North York's 60 public schools.

Grade six student Audrey Peters competed in the senior girls' 100 yard dash competition and had already secured recognition as being the fastest girl at Daystrom. Audrey moved on to compete at two local track meets, first winning the title of being the fastest girl in the Emery family of schools. Audrey, a regular trickster, once showed up the day of an important track meet playfully using crutches to prank her coach.
At the same time, Grade 4 student Anthony Edwin, who had been tied for being the tallest kid in his class with Larry Schafhauser, began competing in track and field and quickly disposed of notable challenges from Steve Penney and Gary Jenkins. Anthony would compete in the junior boys' long jump, high jump, triple jump and 100 metre dash winning all races at the school and other meets. Both Audrey and Anthony moved onto winning all larger track meets they competed in finally leading to the North York finals.
Audrey Peters effortlessly won her race and became the fastest girl in North York in 1969. Anthony Edwin also won his own finals' race for junior boys and joined Audrey in being recognized as the fastest kids in the entire municipality. The school celebrated the children's accomplishments with banners that were lifted at an assembly in the school's gymnasium conducted proudly by Mr. Clubine.
These days Tony Edwin, who had returned back to Canada from St Lucia some years ago, has become a successful and respectable accountant in private practice with Bottom Line Accounting Services based out of Mississauga. Dawn A. Peters is most proud of the accomplishments of her mother for her tireless political efforts and accomplishments in expanding support for social assistance and housing for many in need. The Muriel Collins Housing Cooperative, located at 76 Lombard St. and 79 Richmond St. E., was opened in 1994 in her honour. The Emery Village Voice regrets to report that Muriel Jean Collins (80) passed away on Nov. 12, 2013 and we are extremely proud of her life-long contributions and public recognition.