Humberlea's gigantic printing plant
By Tim Lambrinos
The printing business has played a significant role in the social and economic development of Canada. In the 1950's, this sector of the Canadian economy was the eighth largest employer accounting for eight percent of all manufacturing employment. Across the nation, Ontario alone accounted for more than half of all printing output and employment for this sector.
The social model of the 1950s, though not the universal reality, was of a male breadwinner with lifelong employment in a large firm or government department earning sufficient income to support a wife and several children in suburban comfort.
At home, the family surrounded itself with an automobile, home appliances, television, processed foods, books, newspapers and magazines. Home products were advertised through catalogues, packaging and other printed material. They were also publicized through the electronic media of radio and television.
Like many other manufacturing processes, printing has survived with substantial technological change. And with advances in technology, labour performance and productivity have also been improved.
In the print industry, the most noteworthy technological improvements were in typesetting presses and image reproduction. These were a result of innovations in mechanics, photography and chemistry. And today, there are other major advances in computer and electronic fields.
In 1955, John D. Murray of Murray Printing and Gravure Ltd. decided to build a new massive plant in Humberlea to ensure his family's continuing future in the print industry. He had worked with the family firm since 1934 and the new plant consisted of "five acres of concrete" that would be poured onto one floor and under one roof. Six hundred new employees initially worked in separate letterpress and rotogravure divisions that pumped out millions of magazines, newspapers and catalogues. The plant was intended to accommodate future growth that seemed assured with the economic boom that occurred after World War II. Murray's printing plant opened for business in February of 1956. By 1958, Murray had officially become president of his family's long-standing company.
The plant was located 100 metres east of the intersection of Weston Road and Starview Lane. It was built over James Griffith's farm, bordering CPR train tracks and surrounded by a forest. John Murray's approach was to run the company full-throttle, as fast as all the machines would go.
"Run it into the ground-then scrap it and buy faster equipment. If you don't your competition will," Murray had said at the time.
In 1958, Eaton's Canada Incorporated took over a large warehouse on Bartor Road that was built by Ford Motorcars of Canada in 1956. The warehouse was initially built by Ford to accommodate the need for a parts' warehouse for their new Canadian model called, The Meteor.

However by 1957, sales of the car failed to take off as anticipated due to a recession. The entire warehouse was then purchased by Eaton's Canada. The building would be used as the main warehouse for inventory that was advertised in Eaton's nationally distributed home catalogue. On the north side of the building, there was also a very small section that was used for specialized retail sales.
Somewhat like internet shopping of today, consumers would merely see a product in the Eaton's catalogue and then order it by telephone. The product would arrive by Eaton's delivery van or by mail. The contract to print a good portion of the Eaton's catalogues was given to Murray Printing.
In 1964, Murray Printing was bought out for $700,000 by Southam Press Limited. Part of Southam's buy-out provision ensured that Murray would stay on as president and he was joined by St. Clair Belfour of Southam Press, who would serve as an elected director.
Southam Press was a Canadian owned company founded by William Southam in 1877. Shortly after being established, Southam purchased half interest of the Hamilton Spectator newspaper. Over the next three decades, Southam and his six sons purchased seven other printing companies and newspapers in Montreal, Ottawa, Calgary, Edmonton, Winnipeg, Vancouver and Toronto.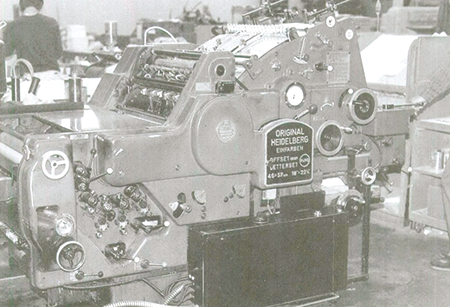 In 1965, Southam Printing and the Toronto Star formed another new company called Southstar Publishers Limited. Toronto Star's newspapers and magazines would be printed at the corporately merged printing plant on Weston Road. To accommodate this in 1966, a new modernized two-acre wing was added to the plant now called the Southam-Murray Printing Plant.
As the 1990's rolled around, Eaton's Canada began to slide and their catalogue and warehousing operation became obsolete. As well, free trade agreements with the U.S. drastically impacted the Canadian print industry nationwide.
In February of 1991, Southam-Murray was forced to close it's doors after nearly forty years of operation.
The defunct 1955 printing plant remained idle for a few years until it was purchased in 1995 by the Toronto Catholic School Board.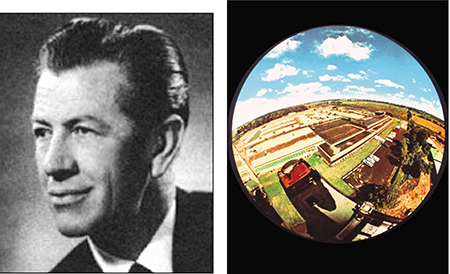 In 1999, St. Basil's-The-Great College School built a new, modern school onsite. The Basilian Fathers relocated this high school from Weston and Sheppard to the former land that was once owned and operated by Southam-Murray Printing.
The high school's philosophy continues to be driven by their motto, Excelsa Petite. The motto translates into meaning striving for excellence.
The school remains most proud of illustrating effectiveness in helping each boy and girl grow both as an individual and as a responsible member of society.
And all that seems left behind from the former print factory is the large sliding gated fence from the plant's employee parking lot.
If you go by for a visit, you can still see the tall fence on the far west side of the laneway that leads into the school.