Meet Humberlea's magnificent musician
By Tim Lambrinos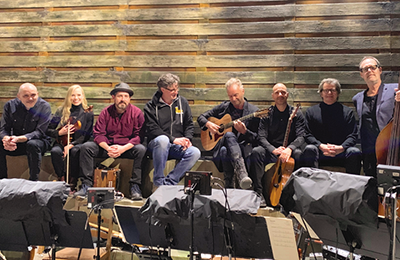 A truly fine musical performance, like a fine wine (perhaps even an Amorone de Veneto), commands special praise and recognition. The making of both requires good ingredients, proper nurturing and a discerning audience.
In reality, only a select few that attempt to attain excellence ever do, but this month's story focuses on a home-grown musician that dared to elevate his skills to an elite status. His guitar skills and personability led him to become a "first call" for an impressive resume of live and recording work with theatre and recording companies. More significantly, he earned the respect of his musical peers. And his passion and desire to impart those skills led him to excel as a cherished music educator.
Tony Zorzi grew up in a home on Jodphur Avenue in the Humberlea community. It's a street where the east side borders the CPR railway tracks. On the opposite side of the tracks, once stood the Wilson Avenue plant of the Crang Booth Brick Company - a manufacturing plant that began clay mining operations in 1930 on a farm owned by Jethro Kirby Crang. A formal limited partnership was formed in 1930 by co-owners Crang and G.W. Booth.
Italo and Bruna Zorzi arrived in Canada as a young couple in the mid 1950s. They came from Castelfranco Veneto (Venetian Castelo) in the province of Trevisiso in the northeastern part of Italy. The couple moved into a single family home on Jodphur Avenue in 1956 along with their two children, Maria and Tony. Another daughter, Anna, was born in 1959. For a while, Italo worked at the Booth Brick factory before transferring to the Southam Murray printing plant at Weston Road and Star view Lane.
In 1961, the couple's son Tony began attending St. Jude Elementary School on Weston Road, located just north of Bradstock Road. Although St. Jude's had no formal musical program, the family's destiny was remarkably altered by a door to door salesman who came to their home with a brochure offering music lessons for children. The music classes were held at the Weston - Canadian Academy of Music on John Street in the heart of the Town of Weston.
Starting from the age of nine, Tony began guitar lessons at the Weston Academy under the tutelage of Dave Battler. In reality, it was Battler's instruction of specific techniques that would prove to be most influential in empowering the future career of young Tony.
Tony's interest in guitar blossomed as he entered high school at St. Basil's College at Weston Road and Sheppard.
While there, he also played on the school's basketball team and was very fortunate to have Des Hennisey as his coach.
Tony had many fond memories from his time at the school and in particular, some eventful Friday night dances. Twins Paul and John Zucchi were two of Zorzi's closest friends at the time. The brothers excelled academically and lived on a sizeable lot on Weston Road in an old farmhouse across the street from the school. This property also had a hobby zoo with a variety of exotic animals that included lamas, ostriches and deer.
Another of Tony's close friends was Mario Granzotto. The boys spent their youth at the Granzotto home located at the family's plumbing business on Garyray Drive. For his final two years of high school, Tony transferred to Emery Collegiate where he would obtain his diploma with honours.
He was becoming amazingly skilled on the guitar and was playing professionally while in high school. He ended up finishing many of his courses by correspondence, since he often performed on the road.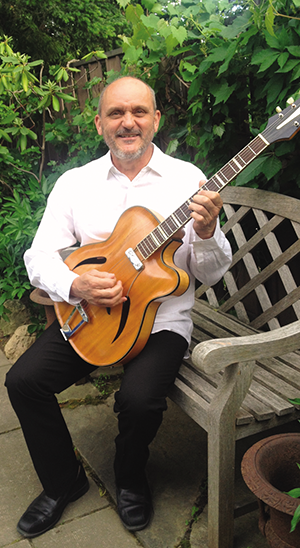 Les Boddington, from Strathburn Boulevard, was an area politician of and one of the first to hire Tony and his pals for an election rally at nearby Crang Plaza. The boys performed on the back of a flatbed truck. The group included Tony on guitar, Glen Mitchell on drums and Stan Vanzulen on trombone.
Another close friend of Tony's, Bob Leonard, played keyboards and drums. His father, Ray Leonard, played piano at Riverside United Church and ran the Boy Scouts. His group, The Pathfinders, often accompanied the church choir. Ray unfortunately lost his arm below the elbow and was forced to use different attachments, levers and pinchers for his daily tasks. Tony credits Leonard for his first chance to play in an orchestra setting in front of an audience.
One of the first bands Tony played professionally with was called, The Bashville Crowd. The group toured across Northern Ontario and Western Canada and even performed in one of the swankiest hotels in Detroit, Michigan, the Crowne Plaza Ponchatrain.
Zorzi enrolled at Humber College for a three year program. After only a year of study, it became clear that Tony's musical talent was great and he was asked to teach at the school.
Humber College's music program was globally respected. On one occasion, Tony toured with the school's "A" band on a seven country tour across Europe - playing in England, France, Switzerland, Belgium, Holland and Germany.
In 1977, Tony graduated from Humber College and began taking a variety of music jobs which included various stints at bars and hotels. Shortly after, he became recognized in musical circles as being an elite performer and he began performing on the major theatre circuit primarily with Ed Mirvish Productions in the 1980s.
Some of the major performances included Joseph and the Amazing Technicolor Dreamcoat, The Who's Tommy, Rent, Crazy for You and the long running production of Mamma Mia. Other performances included being part of the orchestra in the highly acclaimed productions of Dirty Dancing, Bat Out of Hell, School of Rock and Book of Mormon.
In 2004, Tony won his first Juno Award along with Bob De Angelis in the Instrumental Album of the Year category. During this time, Tony was performing live in "pit" orchestras that were situated in front of the stages and at Toronto's Roy Thompson Hall and the O'Keefe Centre.
In 2010, Tony won another Juno Award with the Domenic Mancuso Group for World Best International Music.
One of his greatest professional thrills is when he was called on to perform with Sting of The Police in a production called The Last Ship.
Tony found Sting to be very cool and he was invited to hang out socially with the band. During this time, he continued teaching at Humber College and was part of an ensemble called The Fusion Ensemble that was a component of the school's curriculum.
These days, Tony continues to teach guitar and ensemble performance at Humber College. He's most proud of one of his former students, Trevor Giancola, who also teaches at Humber College.
The classes he teaches trains students in arranging, composing, theory and ear training. He said Humber College readies students to work professionally in various fields of the music industry.
Tony has been happily married to Kathleen (McCrae) for forty years now. She's a former graduate of St. Basil's where she was an award-winning student athlete. They are most proud of their three daughters, Bianca, Andrea and Julia.
So let's all raise a glass and "salute" this fine musician and gentleman is one of the most accomplished professionals to have come from Humberlea. Like that fine wine, he has only become more magnificent with time.