Nobody's Real Bad Boy
By Tim Lambrinos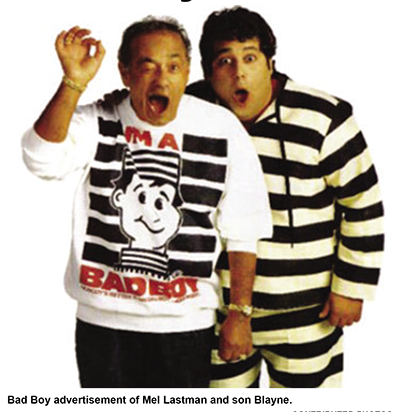 This article was previously printed in May, 2017. It is being presented again in tribute to Mel Lastman.
Mel Lastman
1933-2021
Back in 1955, a new furniture store opened in a strip plaza on Weston Road immediately north of Hwy. 401. The plaza was located on the southeast corner of Weston Rd. and Walsh Ave. Walsh Avenue was designed as a connecting link straight into Albion Rd. by-passing a segment of Wilson Ave.
The plaza was situated just north of the Blondin Loop bus terminal. At the time, this TTC stop was the furthest point north that buses traveled. The loop allowed electrified trolley buses to swing back and head south.
The plaza housed a smoke and gift shop, an IDA drug store, electronics store, licensed restaurant and appeared to provide an ideal location for a much needed furniture and appliance store.
The proprietor of the new furniture and appliance store was 22 year old Mel Lastman.
He named his store Bad Boy after a twin nickname he had acquired as "Mr. Laundry." Lastman was the son of Jewish immigrants from Poland who began his sales career hawking fruit and vegetables at his family's Kensington Market grocery store.
Lastman had already established himself as a successful salesman and his Bad Boy stores boasted to deliver excellent service with great prices. He branded his stores to be as "the place to shop."
Lastman's classy sales-pitch and shrewd business technique allowed Bad Boy to become a gigantic hit.
Lastman passionately took on associating himself with innumerable wacky publicity stunts. He began selling two-dollar bills for one dollar, labeling the stunt as the "best two-for-one deal you could find."
He once arranged to travel to the Arctic so he could sell a refrigerator to an Inuit person and was successful with the sale.
Lastman's charisma and business know-how allowed him to eventually open 40 locations across Canada. Ultimately, politics came calling. Lastman ran for North York's Board of Control in 1969 and handily won the election. In 1973, he moved up the ladder to become the Mayor of North York. Mel Lastman's work ethic while running the City for 25 years saw him receive praise and gratitude from North York's taxpayers.
Lastman's sharp corporate sense permitted North York to net a sizeable surplus in the coffers of the City budget. North York residents even managed to have garbage collection two times a week.
Toronto's mega-city was formed in 1997 and Lastman was successful in his bid to become the Mayor of Toronto.
Unfortunately, the mega-city swallowed up Lastman's accumulated surplus from North York.
that went out to pay other deficits accumulated throughout the general Metropolitan Toronto area.
Lastman had already sold his beloved Bad Boy chain in 1975 so he could focus solely on being an elected official. The Brick purchased the Bad Boy trademark but they allowed the name to lapse through lack of use.
In 1991, Lastman's son Blayne brought the Bad Boy name back to life and took Ontario by storm. Blayne has the same gusto as his father, beat all odds and implemented an innovative, flash-forward sales strategy. Starting with a single store in Scarborough, another one quickly followed in Mississauga in 1992.
A third store opened in 1995 in North York. Blayne is credited for crafting the phrase "NOOOBODY" which has undeniably reinforced the Bad Boy brand name.
The drive and passion of Blayne has led to additional growth of Bad Boy outlets in other cities. A location opened in 1998 in Whitby, followed by one in Barrie in 1999. Bad Boy furniture, appliance and electronic locations are across Ontario in Kitchener, London and Burlington. A Lastman's Bad Boy Superstore is set to open in Ancaster this month. The company says it will be one of the chain's biggest stores to date. That will bring the total amount of stores to 10.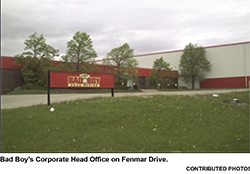 Today, the community is fortunate Lastman's Bad Boy Furniture maintains a footing within the Emery Business Improvement Area's boundaries. Their corporate head office is located at the intersection of Fenmar Drive and Ormont Drive.
Mel Lastman's established tradition of upholding a resilient business attitude continues being driven forward by his son Blayne who has definitely shown to be a chip off the old block. In 2017, Lastman and his wife Marilyn are set to celebrate their 63rd wedding anniversary together. The young businessman who dared to push a confident philosophy can continue being recognized as an immense and respected gentleman of our entire city.