By Tim Lambrinos
A solid foundation of music exists in Emery Village. It spawned many fabulous professional musicians over the decades. But few persons in Canada have been able to transition their music from being relevant into being accepted by the general public at large as smoothly as John Marmora has.
In 1956 Marmora's parents, Antonio and Ersilia, brought their son John to Canada on an ocean liner from Rionero in Vulturé, Italy. The city is in the middle of a very picturesque setting along the slopes of Mount Vulturé in the province of Potenza and in the northern part of the region of Basilicata.
On the boat ride across the Atlantic, Ersilia Marmora noticed that her son was completely infatuated with the music being played by the band on a low rise stage on the deck. Ersilia knew her family had strong musical ties and found great joy in her young son evidently inheriting those genes.
Ersilia watched her four year old boy sit near the stage where he wouldn't move throughout the entire day. Her son was fascinated by the sounds emanating from the instruments being played.
Once they arrived in Toronto, the Marmoras moved into a house near Dufferin and Dundas. In 1959, Antonio and Ersilia welcomed a baby girl into their family named, Carmela.
Antonio Marmora greatly enjoyed listening to Italian music played on the accordion. In 1960, he purchased one for his son. John quickly assembled it and began to learn to play the instrument by himself. After a short period of self-instruction, it became evident that John should be taking music lessons. The Marmoras took their son to Mauro's School of Accordion located at College and Ossington. It was there where John Marmora was given the opportunity to play for Mauro and his daughter, who were accordion teachers.
As young John began to play the instrument, there was some slight smirking taking place by Mauro's daughter. It was only after Marmora finished playing his number that he was told that he was the first person they had ever seen play the instrument backward and upside down, using his left hand on the keys instead of his right.
By 1965, the Marmora family were drawn to a newly built subdivision near Duncanwoods Drive close to Islington and Finch. At the time, nearby Italian Gardens was in full operation and John Marmora spent a great deal of his boyhood visiting Italian Gardens recreational facility where he felt at ease. Among other things there, Marmora enjoyed watching the competitive bicycle races on a track where G. B. Warren Junior High School would later be built in 1968 on Pearldale Avenue.
Marmora then expanded his musical portfolio to include the piano and the Hammond B-3 organ. He began attending both Emery Junior High and Senior High - each had music programs of their own.

Marmora had the good fortune to be taught by Baird Knechtel who was the head of the music department at Emery Collegiate Institute.
It was with Mr. Knechtel that Marmora would learn to play the saxophone and perform in the school's band.
His best friends at Emery were fellow musicians that had similar passion for music, including Moses Hazan and Ross Pooley.
Hazan and Marmora were so highly respected by Mr. Knechtel that they even arranged and performed a solo song each on the school's LP album that was recorded in their final year at Emery.
During his final two years at Emery, Marmora began playing professionally outside the school with the well known Italian band, The Valentinos.
While still in Grade 12, Marmora was making quite a good salary as a musician and was invited to go on the road with Tommy Hunter's major find, Sault Ste. Marie country singer Debbie Lori Kaye.
Now freshly out of high school, Marmora got his first taste of touring with a band.
Over the next few years, Marmora performed and toured with many artists and bands that took him to various destinations around the world.
In 1975, Marmora married the daughter of a family friend, Mary Alberga of Toronto. Once married, Marmora became more rooted and got himself much more involved in the music recording world as a producer, songwriter, composer and multi-faceted keyboardist. In 1976, he along with business partner Jim Mancel, established a jingle company named Celmar Productions.
Over the next ten years, this award winning company produced more than five hundred advertising jingles for many clients across Canada and the U.S. At the time, Celmar was rated as one of the top three jingle recording companies in the country.
Marmora would be in the studio everyday creating catchy advertising tunes for automobile companies, media station identifications, intro music for Global TV and CTV, Molson beer commercials and of course a classic for Kentucky Fried Chicken. He is credited for writing a variety of tunes for some big name products from different companies. Throughout this period of time, Celmar won many Clio awards (Grand, Gold, Silver and Bronze statues), which is the highest acknowledgement for excellence in advertising.
In 1984, even with all of their accomplishments and successes, Mancel felt there was something left in him and chose to reach for a personal performance career and he unexpectedly voided Celmar's corporate partnership.
Later that year, Marmora met a 13-year-old performer from Woodbridge named Joseph De Simone. De Simone went by the stage name Joee and with Marmora's help would go onto have a massively successful music career. During this time, Joee would lead the Canadian and International dance charts with many successful chart topping hits.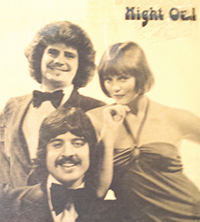 Marmora co-wrote all the songs for the artist and over the next two decades landed substantial recording deals with Clive Davis of Arista Records and with Universal Music. He also landed a major publishing deal with Warner Chappell Music. Marmora's recordings were routinely held in major recording studios in New York, Miami, Paris and Toronto. Marmora was recognized for his writing with Joee in winning the 2002 SOCAN Songwriter of the Year Award (Pop Music). Two years later, Marmora won the 2004 Juno Award for Instrumental Album of the Year, along with Bob Deangelis. Throughout this time, Marmora wrote and recorded music for a variety of scenes in several major motion pictures. He credits his teachings of music theory from Gordon Delamont to have had the greatest impact towards the success of his music career.
Marmora's immediate family continues to be very close to this day. He and his wife Mary, are proud grandparents of four beautiful grandchildren; Matthew, Massimo, Alessia and Emma, all from their daughter Melissa and they look forward to receiving more in the future from their son Anthony. Marmora is also most proud to include son-in-law Nelson and future daughter-in-law Adriana into their exclusive family's circle of trust. John's sister Carmela is also a graduate of Emery's esteemed music program. She is currently volunteering on the committee that has been organizing a 60th anniversary reunion for all Emery Collegiate graduates, expected to be held in the fall of 2021. More information to follow about that.
Marmora's legacy in music continues to be awe inspiring. He has continued to play live as much as he can and as current times permit. He feels there are still some amazing compositions of music left in him that he will be unveiling in the near future. He says that's when the world turns around a bit.