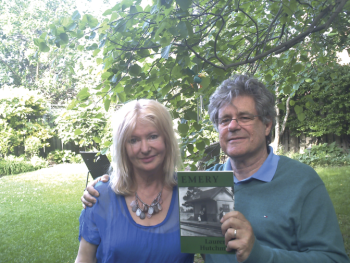 Emery's homegrown literary scholar
By Tim Lambrinos
Dr. Laurence Hutchman is a respected writer and poet recognized in Canada's literary circles. In 1988, he obtained his doctorate (PHD) from the Université de Montréal. For the past 30 years, he has been a professor teaching university students at Concordia University, the University of Alberta, Western University and the Université de Moncton.
But, long before his renowned career in academics and education began, Hutchman was just another kid growing up and playing in the ravines around Emery.
In 1956, when he was just eight years old, the Hutchman family moved from downtown Toronto to Lovilla Boulevard near Weston Road and Wilson. While residing on Lovilla, he attended Melody Road Public School for grades three and four. In 1957, a residential neighbourhood was constructed alongside Weston Road and north of Sheppard called Woodview Park. The Hutchman family purchased one of the newly-built homes on Habitant Drive.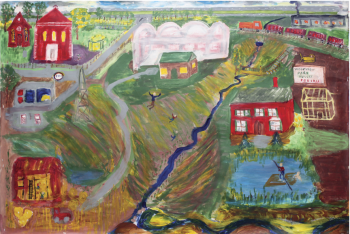 At the time, nearby Gulfstream Public School was still under construction and wouldn't be opened for another year. Young Laurence was required to attend Tumpane Public School near Jane and Wilson for a year before finally being able to enroll at Gulfstream.
During this time in the late 1950's and early 1960's, Emery Village and the surrounding community maintained a solid rural character.
Weston Road was still largely a dirt road and several farmhouses, a church, a school and other related farming buildings remained near the intersection at Finch and Weston. For fresh area youngsters, discovering the community's fields, barns, creeks, ravines and rivers was pure heaven.
In 1958, Laurence and his pal Les Kelly were exploring some farming buildings southeast of Finch and Weston Road. The remaining tenant, who had been a hired hand on the property, raced out with his shotgun and chase dog to surprise the boys. The farmer pursued the boys down the hill and across a swamp. Laurence ran for his life and turned around to see that the farmer had suddenly disappeared. The account is detailed in one of Laurence's initial poems called, The Farmhouse.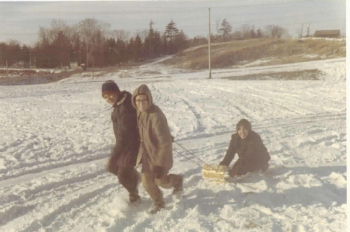 Aubrey Ella and Orrie Truman had built this specific Finch and Weston Road farmhouse in the 1930's and resided at the location in years prior to the area's massive wave of residential development.
After graduating grade eight from Mr. Smallbridge's class at Gulfstream Public School, teenager Laurence Hutchman attended Emery Collegiate Institute in 1962.
One of Hutchman's favourite teachers at Emery was history teacher Mr. John Laflair. For Laurence's final year of high school, his family moved to north Etobicoke. He graduated high school from North Albion Collegiate in 1967.
In 1989, Hutchman met Colleen Thibaudeau Reaney and her husband James Reaney while he and Laurence were teaching at the University of Western Ontario in London. She was the sister of Sheila Thibaudeau Lambrinos who was the North York school trustee at the time. That year, Laurence took over teaching Reaney's Canadian literature class. In 1992, at a 25th anniversary of Canadian Poets in Toronto, Laurence was introduced to Sheila. He was amazed to hear that she had written some books about Emery. He really didn't know the total history of Emery even though he grew up in the area and attended Emery Collegiate. Sheila told him that she had authored and circulated several commemorative booklets for elementary schools' anniversaries that highlighted the history of Emery Village and the surrounding community.
This intrigued Laurence and inspired him to undertake some general research on his own. He was about to learn that there existed a rich history about the former residents of Emery Village. His research led to the making of his first book.
While widening this research for his book, Laurence interviewed two former residents - Aubrey Ella and Orrie Truman. The Ellas were actually very well-known in past generations of farmers in both North York and Etobicoke.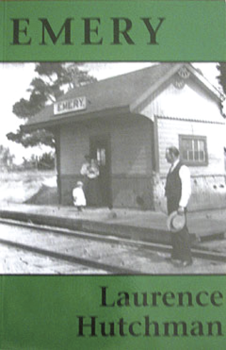 Prior to 1960, Garfield Ella owned a large farm in Etobicoke near Martin Grove and Albion (Smithfield). When an apartment development was built over his farm in the 60's, a street was named in his honour by using a combination of his first and last name, Garfella Drive.
Hutchman was able to track down Ray Devins who had originally operated a wagon shop at the intersection of Weston Road and Finch. He traced him to his new farm in Lindsay, Ontario where the Country Wagon Wheel Dance Hall Barn operated as well. A poem was made about him and the entire Devins' family.
Hutchman also interviewed farmers Aubrey Ella, Orrie Truman, Charlie Grubbe (who took Laurence on a personal tour of his land in and around Grouse Hill), Marion Rowntree from Humber Summit and Bruce McClure from Bluehaven.
All these families are systematically documented in Laurence's original short book about Emery Village. Published in 1998, Hutchman named this first book of poems, Emery.
Some extraordinary chapters include The Farmhouse, The Abandoned Church, The Emery Schoolhouse and The Albion Bridge, to name a few.
Laurence Hutchman is now retired from teaching and currently resides in Oakville along with revered and respected painter Eva Kolacz-Hutchman, his wife. She is also an esteemed poet.
Laurence has recently completed his second book of poems about Emery. Certain segments will definitely pay tribute to some unforgettable personalities and places from Emery's past. Doug Kelman (head caretaker at Emery Collegiate), Italian Gardens, Sportsland Park, 400 Drive-in, Rowntree Mills Park and Bud Crang from Weston Road and Sheppard are all in the new book. This new book is called Two Maps of Emery and is currently in the process of being published and will be available in September. It will have 94 pages and it promises to be much more comprehensive and wide-ranging than ever before.
You will be able to purchase it at the Emery BIA's office for a non-profitmaking amount of what is expected to be around $10. There will be limited copies available, so don't wait too long to place your order. You can contact the Emery BIA's office to find out how to pay in advance by using PAYPAL, or email: info@emeryvillagebia.ca or telephone at (416) 744-7242.