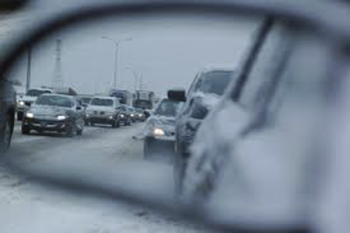 Emery Village has just seen its first good accumulation of snow for this fall. Hopefully we won't see a winter like last year. I know that our local Councillor Giorgio Mammoliti is working hard with the new Toronto City Council to make sure that the roads in the suburbs are cleared quickly and not ignored.
Winter driving can be tough, and with the first big snowfall of the season making its way across the country at the moment, drivers need to take extra precautions. Here are a few tips to adjust your driving to stay safe on the roads:
1. Slow down. Always drive according to conditions and keep in mind that a layer of snow can often be covering ice below it.
2. Pay extra attention and leave lots of space between yourself and other vehicles. The OPP says loss of control can be traced directly back to driver error, which can often result in charges if the error results in a collision. Stopping takes much longer on snowy roads than in normal conditions.
3. Expect the unexpected. Regardless of whether or not you are the most experienced driver on the road, the way that your car will move on snow or ice always has an element of unpredictability. Black ice is often found in shaded areas, on bridges and on overpasses. Take extra care in these locations.
4. Avoid sudden turns or braking. Quick movements like this will often cause your vehicle to lose traction and result in skidding into unwanted places.
5. Watch for snow plows and maintenance vehicles. These guys are out on the roads trying to make driving safer for everyone. They drive slower, but they also leave salt on the roads behind them so passing is probably not your best bet. Always remember that there will also be more emergency response vehicles on the roads during this kind of weather as well.
6. As always, make sure you are well rested and sober. Weather conditions put extra demands on vehicles and driver skills. Stay alert, and always wear a seatbelt.
7. Be patient. Leave yourself lots of extra time to get to your destination, plan your route, and let someone know where you are going and how to get there.
8. Have an emergency kit. An extra coat, blankets, some granola bars, a shovel and some kitty litter may go a long way if you get stuck anywhere.
9. Stay up to date on weather and road conditions. Planning ahead and knowing where there is congestion or roads are blocked off will save a lot of headaches.
10. If you don't have to drive – just stay home. Fewer cars on the roads mean less chance of collisions, so if you can work from home or reschedule, stay home and enjoy a snow day.