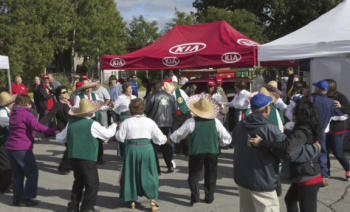 BY SEAN DELANEY
Thousands came out to celebrate the harvest, wine, food and family for the Second Annual Wine Fest in Humber Summit on Sept. 13.
Both Plunkett and Satterly Roads (near Islington and Steeles Ave.) were closed for kids, strollers, food vendors, and musical performances.
Yes, the weather did not want to cooperate at the start of the event but Sandra Farina, the Emery Village BIA Executive Director , was able to use her considerable influence to have the clouds quickly move north beyond Steeles Ave. As things dried out, the energy built. Everything from Rhythm and Blues to traditional Italian accordion, Spanish dancers and the very funny MC- Olga Pellegrino (AKA Rosina Parmiggiano) kept the crowds entertained throughout.
Music and fun filled the air.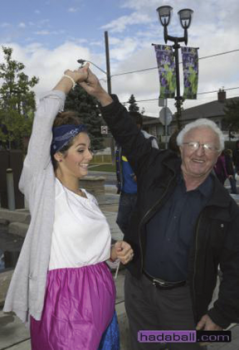 Entertainers included – Mariachi Mexico Amigo- Blu Soul- Claudio Santaluce - Corio Italia Toronto and Jorge& Yuri Lopez, just to mention a few. Wow!
Among the many smiling faces, the busiest tent that day had to be the one reserved for wine tasting where free wine samples were given out to much well deserving wine connoisseurs – along with those just a bit thirsty from enjoying the entertainment. Many thanks go out to our Winery partner "Colio Estate Wines" their President Jim Clark and the knowledgeable staff – Sandy and Clayton.
Something for Everyone at Wine Fest
"The people living around Humber Summit were so pleased that they were recognized by the community and that the Emery Village BIA would choose to host the second annual Wine Fest again here…they were honestly humbled by it," said Tony DaVersa, Chair of Humber Summit and one of the event organizers. (Pictures of the event are available online at www.hadaball.ca and look for the Emery Village Wine Fest folder).
Another big thanks to our best friends, the North Islington Seniors, especially Rocco their President. The group of civic minded community members once again served up the most sweet corn available on this planet, and all for a good cause.
Food was a big part of the event and many local restaurants participated — everything from African to Italian food. "Dominic's Meats" was busy serving steak on a bun while Capri Bakery had traditional Italian fare and many lovely homemade pies.
"I loved the day," said Alfonso, owner of Mamma Mia Restaurant – situated at the corner of Satterly and Plunkett. Mamma Mia was able to delight the crowds with many tasty offerings while families checked out the Kids Zone just off Islington.
I can't help but mention a long time local resident of Plunkett, Louis Zelko. Louis is the unofficial ambassador of Plunkett Rd. With civic pride like no other, he makes sure that the street is always free of garbage and keeps a close eye out to ensure everyone is safe and secure. Louis ,our hats go off to you!
Tony D'AVERSA , Chair of the Humber Summit for the Emery Village BIA told a little birdie that next year, "watch out!!" The festival will be three times the size, and a lot more of what Emery has to offer for everyone!