Why auto theft is a serious threat
Brought to you by The Insurance Bureau of Canada and 31 Division TPS.
Every year, people are injured or die due to auto theft. When it's in the hands of a thief, a stolen car is like a loaded gun. And vehicle thieves have absolutely no regard for public safety and the rules of the road.
Auto theft is not a victimless crime or just a property crime. Auto theft costs all Canadians millions per year if one considers healthcare, court, policing, legal and out-of-pocket costs such as deductibles.
Fighting Crime Involves Many Partners
Auto theft defies all boundaries – jurisdictional, political, geographical, and administrative. It is more than just an insurance crime or a policing problem. The fight against auto theft requires the cooperation and involvement of many partners. It starts with automobile owners and includes the law enforcement community, automobile manufacturers, dealers of new and used cars, salvage operators, car repairers, automobile insurers, theft-deterrent system manufacturers and installers, licensing, and customs authorities, and the judicial system.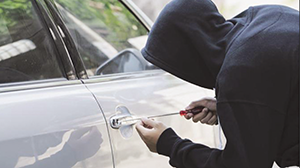 Tips to prevent auto theft
Even with today's tech-savvy thieves, there are a number of steps Canadians can take to help protect themselves from becoming a victim of auto theft.
Don't leave a keyless entry fob in a vehicle or unprotected at the front entrance of your home. Thieves can use wireless transmitters to intercept the signal, giving them access to the vehicle. Consider storing fobs in a protective box or bag that blocks the signal.
Install an immobilizing device that prevents thieves from bypassing the ignition and hot-wiring of a vehicle. This can include devices that require wireless ignition authentication or starter, ignition, and fuel pump disablers.
Install a tracking device that emits a signal to the police or a monitoring station if a vehicle is stolen.
Don't make your vehicle an easy target:
- Never leave a vehicle running when unattended.
- Lock the doors and close all windows when parked.
- Make sure to park in well-lit areas or in the garage.
- Use a visible or audible device that shows thieves a vehicle is protected.
- Consider using a deterrent like a steering wheel or brake pedal lock.
- Don't leave personal information, like insurance and ownership documents, in the glove box when parked.