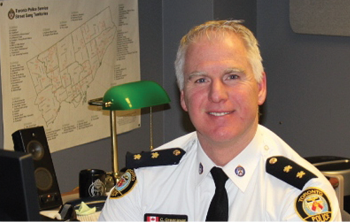 By Sean Delaney
Have a chat with a group in Toronto today, and the conversation will likely steer toward gun violence.
In Emery Village, law enforcement is in the hands of Inspector Colin Greenaway and he sees a bright present in an improving 31 Division, and a brighter future in improving community relations.
"There has been a lot of attention this year in the city in regard to gun violence, and any amount of gun violence is too much," Greenaway said. "And there's always been a lot of attention on 31 Division, but this year, year to date, we've had less gun violence than last year. We're doing better."
Greenaway credited much of the improvement he's seen in the area to growing the relationship with the community. He said his whole reason for speaking today was to encourage people to be part of the solution, to not be afraid to call the police and help them out.
"A lot of reasoning behind our growth is the community involvement, using Crime Stoppers and relationships they've built with police officers that work specifically in those neighbourhoods," Greenaway said.
The division inspector said 31 Division has neighbourhood resource officers who work in the Jane and Driftwood area, and another set of four resource offers who work in Jane and Sheppard. The Jane St corridor historically has fallen prey to more gun violence than other areas in the division, and they direct resources accordingly.
But he sees the greatest potential in the growing conversation between his officers and the areas they serve. And today, that is where he is putting his focus, and he is asking others to be more vocal with their local police service.
"We would like to see other neighbourhoods get familiar with the Crime Stoppers program. Call up. Give information, and no personal information taken if you want," Greenaway said. "If you see a police officer in person, you can even talk to them about being a confidential informant."
Members of the public can even speak to officers individually who will welcome teaching them about the entire program.
"When we say it's confidential, It's confidential."
When citizens are seeing crime, the police on the ground are just a small percentage of the solution, the inspector explained. The majority of support has to come from the community. the numbers dictate it. The majority of the population is the citizens they are striving to protect.
They are a single digit percentage of the population working within it.
"We need citizens to call 911 when they do see problems and we will go in and surgically remove that small percentage of people breaking the law," Greenaway said.
"Whether up on Jane Street corridor or in Emery Village, or at Weston Road and Sheppard, Weston and the 401. Those are great neighbourhoods, and it's a great Division and we want to encourage people to be part of the solution. Together, I think we can help greatly reduce the amount of gun violence in Toronto."
Emery's 31 Division has a Police Liaison Committee Greenaway co-chairs. They meet throughout the year and Greenaway sees it as just one way more of the community can reach out and get involved. The Division is also active on social media,
"You can track us and engage us online, or come in get educated and be part of the solution," Greenaway said. "We can give you info on what you can do to prevent crime in your area."
The inspector said residents can simply get on social media, or on the Division's webpage and interact. "We would love to have more people involved with us."
The Division is also involved in a Workplace Forum to be held St. Basil's. They are working with a number of stake holders including the LiUNA group, ministries, social groups, government agencies and more. "We're canvassing schools and community groups and looking for as many youth as possible to come out that day," Greenaway said. The event happens Nov. 17, from noon to 4 p.m.
"We're constantly working to build community trust and confidence. My goal is to always commit to us getting better," Greenaway said.
"The community is instrumental in providing crime information in sharing surveillance video from businesses and beautification programs in making all areas we live in together, better." Want a visit?
Phone ahead to ensure available officers, and 31 Division will make it happen.