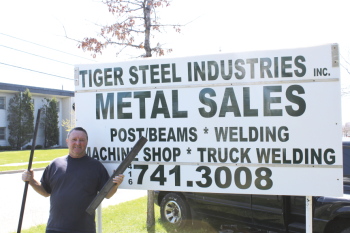 BY SEAN DELANEY
Tiger Steel is a family owned and operated steel provider that is all about the customer.
Owner Chub Bakonyi sat down with the Emery Village Voice to explain a bit of their history.
The business started on Weston Road in 1978.
"I came out of Humber College and I didn't know what to do," Bakonyi said. "My Dad had a little machine shop, and I remember saying, 'Hey Dad, you want me to get a government job, or become a postie or something?'"
Bakonyi laughs about the arm wringing.
His father agreed and allowed his son to come on board. Bakonyi did everything for the small business from accounting, to purchasing, to sales, delivery, ordering and drafting.
"I never thought I'd have to do that stuff because I went to technical school," he said. "But I took to it. And after a while I said, you know dad, it'd be better to sell to these people than be in competition with them."
So Tiger established a little niche market the owner said.
"Renovators, contractors, fixing parts, whatever you ask," Bakonyi added. "We can do it, and we'll work the weekend even. We don't mind."
Tiger's quality steel products have ended up in the CN tower, Canada's Wonderland, Hospitals and with a ton of local contractors.
"I always ask where it's going," Bakonyi said. "You get great stories sometimes. Inventions and different things."
Hard work is what Tiger is known for.
"We came over with $10 in our pocket," Bakonyi added. "If you work hard in this country, you can make it."
To learn more about Tiger, contact them or visit at:
470 Garyray Dr. North York
416-741-3008