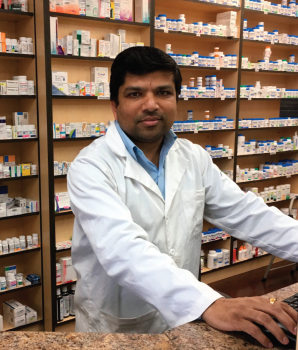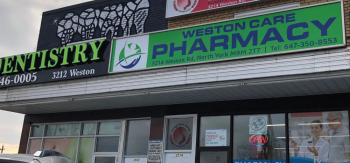 By Sean Delaney
Weston Care Pharmacy came to the Emery Village area in March, 2018.
Pharmacist Dashkay Patel, who became a pharmacist in May of 2016 saw a service gap in the region.
"From Finch and Weston to Bradstock Rd., there is only one small pharmacy in this area, and there is no other pharmacy all the way until Hwy 401," Patel said. "So we saw this as a good location, where we can get to more of our customers and provide them with a more convenient service."
Patel saw that many of his customers have lived in the area for long periods of time, from 20, 30 to 40 years. And many were seniors. So he longed to provide them with a location where they didn't have to travel far and even had the option of using public transportation if need be.
"We do free delivery for prescription medication, as well we can communicate with doctors by telephone and fax any potential effects or side effects of your medication, and we are open every day."
Transferring your prescription is easy and for his customers, Patel provides blister packaging at no extra cost.
"We want to provide the best service we can for all of our customers," he said.
Weston Care is open Monday to Friday from 9 a.m. to 7 p.m.
Saturday they are open 10 a.m. to 4 p.m.
Sunday they are open from 10 a.m. until 2 p.m.
Westone Care Pharmacy is located at 3214 Weston Rd at Bradstock.
Making new home buyers wait for better protection is wrong
A recent Ford-government announcement means that new home buyers will have to wait at least another nine months for a plan to give them the protection they deserve.
Consumers who buy new homes are not protected by the government, but by the Tarion Warranty Corporation, a private corporation. Consumer rights advocates say Tarion heavily favours builders over the home buyers it is supposed to protect.
It is easy to see why. Tarion is controlled by the building industry, creating an unavoidable conflict of interest when consumers turn to Tarion for help in resolving disputes with their builder over leaky windows, cracked foundations or mouldy basements.
Most new home buyers who are fighting their home builder over deficiencies refuse to go public with their fight for fear of harming the property value of their new home. Julie and Marcel Bellefeuille are a brave couple who made their battle with the builder of their new home public and as such have seen the assessed value of their property drop by more than $100,000.
After moving into their new home in a brand new subdivision two years ago, the Bellefeuilles discovered 91 defects including black mould due to water infiltration and damage to both their foundation and the concrete slab in their basement. Under the current system, the burden of proof in the case of house defects is on the purchaser, meaning the Bellefeuilles had to spend tens of thousands of dollars on inspector's and engineer's reports, and yet many of the problems of their home have yet to be fixed.
The case of the Bellefeuilles is a dramatic one indeed, but many new home buyers here in our province are locked in disputes with home builders and Tarion itself in getting the defects of their new homes fixed.
The Ontario New Home Warranties Plan Act and the Tarion Warranty Corporation underwent a review in 2015, with extensive public consultation. Many recommendations were made, including the end to Tarion's privately run monopoly, an accurate and up-to-date builder registry to let new purchasers know their past records, improved dispute resolution processes, and a regulatory board that represents the interests of consumers, instead of the building industry.
Making desperate home buyers wait for the rights they deserve is wrong when the solutions have been known for years. The time for action is now. I welcome readers to share their experience in dealing with new home builders and their ideas on the importance of protecting the rights of new home buyers by e-mailing me at:
TRakocevic-CO@ndp.on.ca.
Tom Rakocevic
Humber River- Black Creek MPP