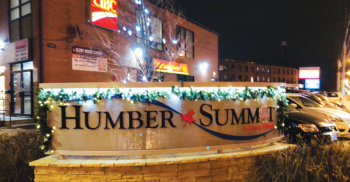 By Sean Delaney
The first day of January marks the official beginning of a brand new decade, nicknamed the twenties. If it's going to be anything like the previous century's unique decade, it might even be the, "Roaring 20's."
The Emery Village Business Improvement Association (BIA) has once again made an effort to celebrate the season by placing a metallic Christmas tree at Weston Road and Sheppard.
The BIA has also graced the boulevards of Plunkett Road and Islington Avenue near the Italian Gardens Plaza with attractive, seasonal lighting displays.
As well, the BIA is proud to premier in 2019 arranged lighting displays along a newly paved sidewalk located just south of Finch and Weston Road at the Medallion site. This is the precise location where retail shops will be open for business very shortly, and also the destination where a future historical marker will be unveiled.
The Emery Village BIA plans to keep these seasonal lighting displays lit up for all of January in the hope that it will assist with ringing in the New Year, and perhaps a little beyond. The organization is also extending a warm round of thanks to all the Emery Village BIA member businesses that help to make these wonderful additions to the community. As a thank you to the members, when you have an opportunity, the BIA asks that you try and support local Emery businesses.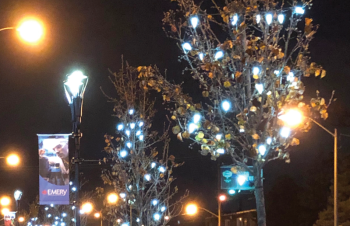 If you think you can keep your own home's seasonal lights up a little longer, they ask that you do this as well. The City won't be picking up any Christmas trees from the curb until at least mid to late January anyway, so it is recommended you enjoy the seasonal atmosphere in your home as long as you can. Local neighbourhood garbage schedules can be checked for when your streets' Christmas tree pick-up will take place.
The Christmas and Holiday Season is a time for all families and friends to get together and reflect on the many blessings shared.
The Emery Village BIA's Board of Management and staff wish everyone continuing health and prosperity, a very Merry Christmas, Season's Greetings and Happy Holidays throughout the entire festive season.