By Sean Delaney
Sometimes, it takes an army to save a community.
On April 14th, the City of Toronto opened three more COVID-19 mass immunization sites. One of these sites is in the heart of Emery Village at the Carmine Stefano Community Centre. The site is currently vaccinating residents 50 and older living in hotspot communities. As with all other locations, an appointment is required.
The centre is part of a network of city-run clinics expected to have a weekly capacity that will see them deliver more than 10,000 shots a day, based on anticipated vaccine supply.
The Emery Village Voice had a recent opportunity to visit the Carmine Stefano facility accompanied by local Toronto City Councillor Anthony Perruzza and Humber River Black Creek MPP Tom Rakocevic. First impressions were of a well-organized operation as well as how much preplanning would have occurred. It was evident that many divisions within the City of Toronto make the vaccine clinic work with militaristic precision. Only in this way will the clinic be able to administer the 1,000 plus doses per day. From two 31 Division officers doing traffic control off and on to Weston Rd, security staff at the door, Toronto Public Health officials, Toronto Fire and many volunteers, everyone has a dedicated role to play.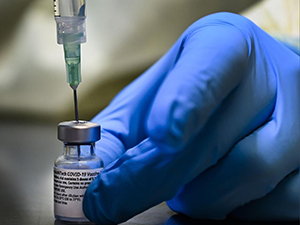 "We must vaccinate those most at risk as soon as possible," said MPP Rakocevic while touring the Vaccine Centre. "I have been working with an incredible team of healthcare providers and organizations to get vaccines here in Humber River - Black Creek to fill in the gaps of this vaccine rollout. Over 12,000 local residents lined up and received a vaccine at mobile pop-up vaccination clinics in our community rather than wait untold weeks or months to get it elsewhere. Access to vaccines is key in beating this pandemic, and I won't rest until the residents of my community get the vaccinations they need."
Councillor Perruzza encouraged eligible residents to get vaccinated at one of the nine city-run vaccine clinics that are up and running.
"These clinics are operating seven days a week to get people vaccinated as quickly as possible, subject to vaccine supply. It's simple, just show up and show us your arm," Councillor Perruzza said.
MPP Rakocevic has kept residents updated with vital vaccination information regularly with e-newsletters, and on Twitter. His office can provide help and information. Feel free to call, 416-743-7272. The Carmine Stefano Community Centre is located at 3100 Weston Rd.
Please see page 3 for an extensive listing of COVID-19 vaccination information from Councillor Perruzza's office inside this edition.