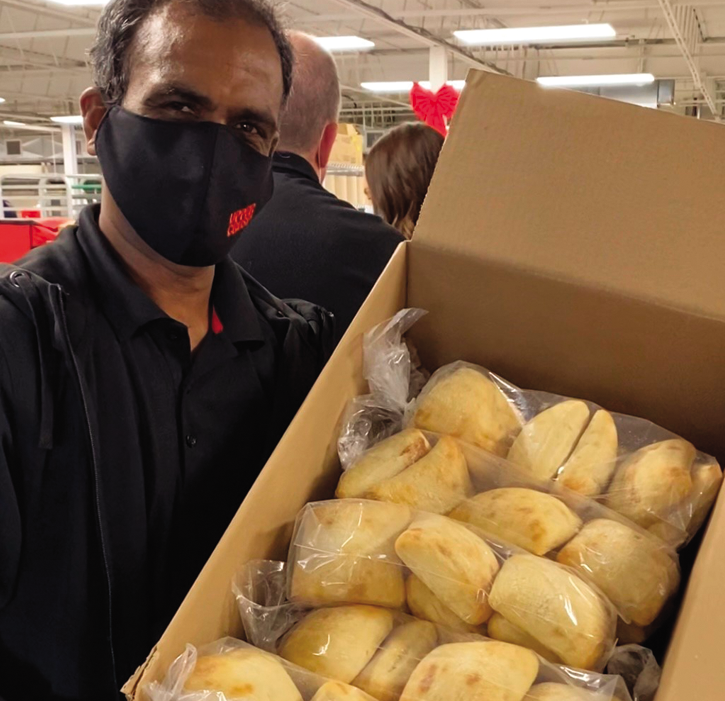 By Sean Delaney
Upper Crust hosted its 2020 Holiday Toy Drive and food hamper assembly, giving back to those who need it most.
Through a partnership with Kitchen24 and Second Harvest Food Rescue, the toy drive and donation of goods and food will support 600 families with holiday hampers. Upper Crust employees and volunteers hand-packed donation boxes and distributed bundles of children's gifts to families.
"Now more than ever, it is important to help those in our communities who need it most. Giving back is an essential part of our mandate at Upper Crust, and we are always looking for opportunities to do so in ways that align with our values," said Carmela Serebryany, President of Upper Crust. "We know that this will be a difficult holiday season for many families, and that is why we are proud to work with Kitchen24 and Second Harvest to do our part by providing 600 families with children's toys and meals."
Toronto City Councillor Anthony Perruzza, as well as local MPPs Chris Glover and Tom Rakocevic, joined the toy drive and hamper assembly.
The toy drive and hamper assembly builds on Upper Crust's continued partnership with Kitchen24, a convening space for chefs, caterers or any passionate foodies. Through this partnership, both organizations have helped local families access necessary food supplies during the COVID-19 pandemic, including a Thanksgiving meal prep and delivery run, as well as shipments in the spring to residents who have been hit hardest by the COVID-19 pandemic.
Upper Crust and its network of allied companies have always been proud to give back through engaging in community initiatives like the holiday toy drive. Upper Crust has donated thousands of baked goods to frontline community groups as part of a shared effort to promote food security during this unprecedented time. It also spearheaded a matching campaign with Humber River Hospital, helping to raise over $200,000 to purchase three rapid testing machines for COVID-19 at the beginning of the Pandemic.
For more information, please contact:
Steve Kidron, Co-Founder, Kitchen24: steve@kitchen24.ca
Kimberly Boyle, VP of Human Resources, Upper Crust:
kboyle@uppercrust.com