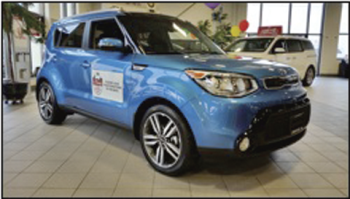 Local Dealership Wants To Get Underprivileged Kids Playing Soccer
Trento Kia is bringing DriveChange to Toronto/Vaughan and surrounding Area.
For the past five years, Kia Canada has sponsored DriveChange; a program aimed at helping underprivileged kids get involved in soccer. This year, Trento Kia is bringing this program to Toronto and Vaughan. From Aug. 21st to Sept. 30th, Trento Kia will be collecting new and used soccer equipment to help the underprivileged.
"I'm exceedingly proud to take part in this initiative," said Renzo Moser, dealer principal and founder of Trento. "I've been in business since 1959 and I know how important it is to give back to the community you do business in. Soccer is big everywhere and I think this initiative will do well."
Trento Kia General Manager Doug Dam says his staff is eager and ready to get the word out. "Our entire sales team is making DriveChange a part of their sales process. Customers who purchase a car from us (during the equipment drive) will be given special discounts on that car, as well as service and parts customers. We want to reward those who help us by helping them. With the help of the community, we can help get a few underprivileged kids involved in organized sport – an activity known to help at-risk kids and youth."
But Trento Kia won't be doing this alone – they've partnered with the Vaughan Food Bank; an organization well aware of the challenges facing many Vaughan families year round. "Trento helped us collect several items of food and toys this past Christmas. I'm happy to assist them in this. I've been doing charity work for many years now and I know how challenging it can be. So any sporting equipment we receive, we'll happily donate to Trento Kia's DriveChange initiative", said Peter Wixon, director of the Vaughan Food Bank.
Individuals and businesses looking to donate sporting equipment to Trento Kia can bring their donations directly to Trento Kia at 5395 Steeles Ave. W where they will be collected in a special Kia Soul in the showroom (pictured here).
People who donate will receive the following benefits:
- Customers purchasing a new or used vehicle can either donate soccer equipment and receive a $300 discount on the purchase price of the vehicle OR Trento Kia will donate $300 worth of soccer equipment to DriveChange on their behalf.
- Service customers with bills over $200 (pre-tax) who bring used soccer equipment will get $25 off the price of their service bill OR customers can request to have $25 donated in their names to DriveChange
For more information about Trento Kia's Drive Change, details about donation rewards, and how you can help please contact:
Doug Dam
416-740-8800
dougdam@trentokia.com