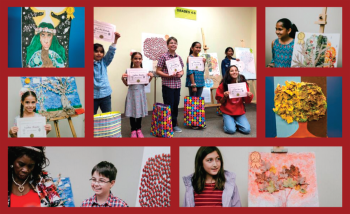 By Sean Delaney
On Sept. 14, as part of the Heritage Oak plaque unveiling, the Woodview Park Library held a celebration for the winners of the Heritage Tree Art Contest. The contest ran throughout the summer and had participants create an original piece showing a tree and using commonly recycled items that one might find around the home, along with writing a story about their creation.
Students were split into categories from Kindergarten to Grade 3, Grade 4 to Grade 6 and Grade 7 to Grade 12. Many children from Emery Village participated.
All of the finished artwork was displayed in the basement of the library. The contest judges had a difficult decision because the results were all so beautiful.
Winners received a gift bag filled with items such as gift cards and products from sponsors.
The contest and celebration was possible thanks to the efforts of head librarian Diane Rothbauer, who is forever dedicated to the community's youth and runs the after-school library programs.
The event was also a success thanks to a group of caring volunteers, as well as the sponsors.
A big round of applause also goes out to Edith George for her continued hard work in the community focused on nature preservation and education.