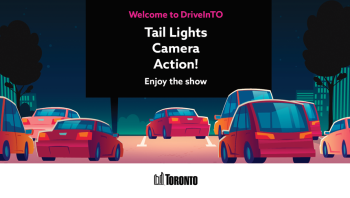 Toronto launches DriveInTO to drive entertainment experiences across the city
By Sean Delaney
Festivals and events are adapting to new changes with City of Toronto support.
The City has launched DriveInTO which will allow for temporary drive-in entertainment experiences across Toronto this summer.
From films to concerts to sports broadcasts, drive-in entertainment will offer an opportunity for Torontonians to re-engage with their City.
Toronto residents will be able to experience DriveInTO at the following locations:
* Ontario Place will feature screenings.
* Free DriveInTO nights will include programming by Hot Docs, imagine NATIVE and TIFF.
* CityView Drive-In at 20 Polson Pier will feature concerts, screenings and broadcasts.
* Free DriveInTO nights will include programming by Inside Out LGBTQ Film Festival, Reel Asian Film Festival, Reelworld Film Festival and Regent Park Film Festival.
* Canada Lands Company, Downsview Park Friday Night Lights presented by MADE and will feature free made-in-Canada films.
* CF Movie Night at CF Sherway Gardens.
The City has partnered with local film festivals to provide free programming to the public at Ontario Place and CityView Drive-In at 20 Polson Pier this summer. To help event organizers safely design and produce these temporary events, Toronto Public Health has created a COVID-19 guidance document for drive-in and drive-thru entertainment.
Each DriveInTO location will be independently produced, programmed and ticketed. More information about DriveInTO is available on the city website: www.toronto.ca.