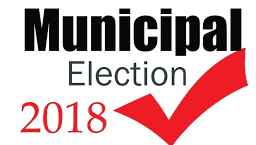 Toronto votes, as you likely have heard.
The City of Toronto will carry out a 25-ward election on Oct. 22. That means many Emery Residents may have some questions. Here is some help.
Our new Ward 7 now almost doubles its size amalgamating Ward 8 to the East. The new Ward 7 is now called Humber River /Black Creek.
Where and when do I vote?
Locations to vote on election day (Oct. 22) are set to be uploaded to the City of Toronto's MyVote website on Sept. 24. By typing in your address on that site, it will give you a personalized list of candidates, a ward map, voting locations and an ability to check if you're on the voters' list.
Voting hours on Oct. 22 are between 10 a.m. and 8 p.m. Employers are required to ensure residents have a three-hour period off work in order to vote.
For voters who are able to get to the voting location but are unable to get out of the vehicle, the City of Toronto allows curbside voting if a friend or support person notifies elections staff at the voting location.
How to vote in advance of the Oct. 22 election
The City of Toronto will hold five days of advance polling between Oct. 10 and 14. Residents can vote at one of two polling locations in each ward, or at Toronto city hall. A list of advance poll locations can be found at: www.toronto.ca/city-government/elections/election-resource-library/voting-places/.
Advanced voting day hours are between 10 a.m. and 7 p.m.
How to have someone vote on your behalf
If you are unable to cast a ballot on any of the voting days, you can appoint someone (an eligible Toronto elector) to vote on your behalf. The forms can be obtained from the city clerk's office by calling 416-338-1111 or emailing: voterregistration@toronto.ca. Once you get the form, you'll need to fill it out in full, sign it, provide your identification (photocopies are accepted) and say who you want your proxy to vote for. The form will need to be certified by the city clerk or her designate. City staff will also need original identification of the person who is being appointed to carry out the vote.
If you have questions about specific voting situations, you can call the elections office at 416-338-1111 or email: elections@toronto.ca.